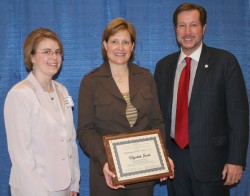 Pi Alpha Alpha President Katrin Fergus, Rep. Libby Jacobs and Drake President David Maxwell at the awards ceremony.
Iowa legislator, alumna Libby Jacobs honored for public
service
Iowa Rep. Libby Jacobs, R-West Des Moines, was honored for
her commitment to public service through her professional and personal
endeavors by Drake University's Pi Alpha Alpha honor society on Wednesday,
April 30.
Jacobs, who earned a Master's in Public Administration from
Drake in 1986, received the Distinguished Alumna Award at the Center for
Graduate and Professional Studies' annual luncheon honoring a graduate from the
MPA program. She serves as community relations director at Principal Financial
Group and is a member of Drake's Board of Trustees.
"We are pleased to honor
Libby with the Distinguished Alumna Award that just brushes the surface of her
commitment to her community and the state of Iowa," said Charlie Edwards,
dean of Drake's College of Business and Public Administration. "We are
proud to call her a graduate of our program at Drake."
In addition, current students in the program are inducted
into the honor society. This year, there were 73 students inducted into the
society. Members are students enrolled in the MPA program, who have completed
at least 18 hours of graduate coursework with a 3.70 cumulative grade-point
average.
Pi Alpha Alpha is a national honorary society founded in
1974 to encourage and recognize outstanding scholarship and accomplishment in
public administration; to promote the advancement of education and practice in
the art and science of public administration; and to foster integrity,
professionalism and creative performance in public service.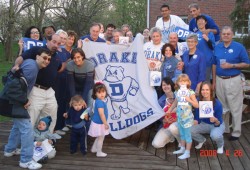 Enjoy
alumni photos online
Chicago-area
alumni and friends who couldn't be on campus for the 2008 Drake Relays did the
next-best thing: They attended the annual Relays party hosted by Vinaya Sharma,
BN'93, at his Hinsdale, IL, home. Sharma appears in the back row, wearing the
white shirt and beads…and isn't that Drake actuarial science Professor Stuart
Klugman, BN'70, in the center?

You can
view more photos of alumni and campus events in Drake's online photo galleries.
Find classmates, update your information with blueView
As alumni of Drake
University, you share a special lifelong connection to the University community,
your classmates and the Drake University National Alumni Association. Take
advantage of that connection by using Drake's online alumni community,
blueView.
With blueView, you
and other Drake alumni worldwide have access to the University's
password-protected online alumni community. This center for information and
interaction enables you to update your personal information, learn about and
register for upcoming events, see news from around campus, and find more about
the services offered by the Alumni Association, all in a secure environment.
You also can find
and reconnect with classmates using blueView's online alumni directory,
searchable by name, college/year, city and state. Learn more about blueView on
the Drake alumni Web site.
Your nine-digit membership number in the Drake National
Alumni Association is your key to blueView. Alumni were mailed their membership
cards and numbers in January. If you need your membership number, you can
request it via the blueView verification form on the Drake alumni Web site.
Alumnus' story featured in
"Final Season" on DVD
The story of a Drake alumnus is
featured in the inspiring motion picture "The Final Season," released by Sony
Pictures Home Entertainment on DVD April 15. "The Final Season" tells the
moving story of Kent Stock, GR'98, played by Sean Astin, as the underdog coach
of a high school baseball team from Norway, Iowa, with a championship legacy
but doubtful future. The team, led by legendary Coach Jim Van Scoyoc, played by
Powers Boothe, had won 19 state championships, but was dealt a series of
unexpected blows that threaten to undermine the team's bid for a 20th
championship season.
Stock
is principal of the Oak Ridge Middle School in Marion, Iowa.
In the film, some local and state
education leaders propose a school merger that will close Norway High School.
Van Scoyoc, who has dedicated his life to the Norway Tigers baseball team, is
forced out of his coaching position and replaced by his 24-year-old former
assistant, Stock, in an attempt to remove the team as a rallying point for
community pride and anti-merger sentiment.
Failure seems inevitable, but
Stock proves to be a determined young teacher who keeps the team focused on the
tradition of Norway baseball and helps them overcome challenges to win their
20th championship. Asking the team, "How do you want to be
remembered?" Stock teaches them to honor and uphold the principles of
Norway baseball and community. He also teaches state attorney and merger
advocate Polly Hudson that rural small towns have character and value that
should be cherished, not cast away.
Directed by David Mickey Evans, "The
Final Season" features a supporting cast that includes Tom Arnold, Rachael
Leigh Cook and Michael Angarano.
Seeking Drake alumni to share their stories
Susan
Breakenridge, coordinator of administrative services for Drake's Cowles
Library, is seeking Japanese-American alumni who attended Drake during World
War II and experienced the internment of Japanese-Americans in the United
States. Her goal: Capture the experiences of these alumni and their families in
oral and written histories.
Breakenridge
got the idea while teaching a First-Year Seminar on diversity, in which two of
her students wrote about the internment of Japanese-Americans during World War II. That reminded Breakenridge of a Drake Quax
from that era that referenced a proclamation in opposition of the internment
policy.
If
you have an experience about internment to share, contact Breakenridge at susan.breakenridge@drake.edu or
515-271-3994.