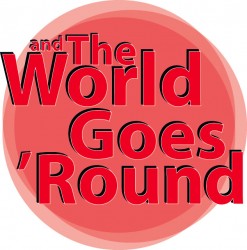 MEDIA CONTACT: Lisa Lacher, 515-271-3119,
lisa.lacher@drake.edu
Students in Drake Theatre Department's Musical Theatre II class will present "And the World Goes 'Round," at 8 p.m. Saturday, May 10. The performances, which are free and open to the public, will be held at Studio 55, Harmon Fine Arts Center, 25th and Carpenter streets.
Pre-show entertainment, provided by students in Stage Combat and Movement II classes, will begin both evenings at 7:15 p.m. in Studio 55. Students will perform scenes that include unarmed, rapier and quarterstaff fights. Saturday night only, students in the Movement II class will present a performance-art movement piece about their interpretations of the Seven Deadly Sins and Heaven.
"And the World Goes 'Round" is a musical comedy that showcases a collection of songs by Kander and Ebb, the longest running lyricist and composer team in Broadway history. The program includes an eclectic mix of music from "Cabaret," "Chicago," "New York, New York," "Funny Lady" and more.
"The music is jazzy, sassy, sexy, seductive, honest, heart wrenching and big and brassy," said Karla Kash, Drake visiting assistant professor of theatre arts. "There are wonderful big choreographic moments like 'All that Jazz' from 'Chicago,' and there are honest tender moments like one of their early famous songs called 'Coloring Book.'"
The production is the final project for the Musical Theatre II course and features 20 students.



Kash is director and choreographer of the musical. Philip King, a junior vocal music major from Montezuma, Iowa, is the music director.
For more information, contact Kash at 515-271-2897 or karla.kash@drake.edu.