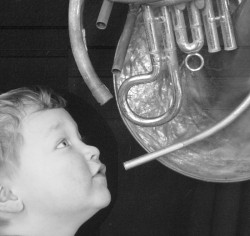 MEDIA CONTACT: Lisa Lacher, 515-271-3119,
lisa.lacher@drake.edu
Three accomplished Iowa musicians will fuse musical performance, storytelling, acting and improvisation in "A New Look at Chamber Music for the Horn," on Saturday, May 3, at Drake University.
The event, which is free and open to the public, will begin at 2 p.m. on the Jordan Stage in Sheslow Auditorium, Old Main, 2507 University Ave.
The featured musicians are:
Eric McIntyre — hornist, composer and conductor at Grinnell College and music director of the Fort Dodge Area Symphony

Kimberly Fitch — vocalist, composer, dancer, studio artist and performance artist

Patrice Ewoldt — faculty pianist at Grinnell College and a collaborative artist who performs throughout the region
The program includes musical interpretations of poems by Lewis Carroll and the world premiere of "Zoo Stories," a set of new fables by composer Robert Nelson and playwright Kate Pogue for horn, mezzo-soprano and piano.
The performers offer spontaneous musical improvisations that may include everything from renderings of familiar children's stories to enlightening suggestions from etiquette books.
The concert is part of a series that includes performances in Grinnell and Cedar Rapids. The performance is sponsored by the Drake University Department of Music, Grinnell College, the Iowa Arts Council and the National Endowment for the Arts.
For more information, contact McIntyre at 641-269-4916 or MCINTYR2@Grinnell.edu.
– 30 –