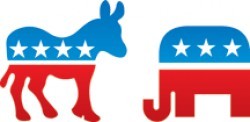 MEDIA CONTACT: Lisa Lacher, 515-271-3119, lisa.lacher@drake.edu
Drake
students and other residents of Des Moines precincts 44, 45, 47 and 48 will be
able to cast their ballots for the June 3 primary election at a satellite
voting center on the Drake campus Thursday, May 1.

The satellite voting center will be open from 9 a.m. to 3
p.m. in the Breezeway of the Olmsted Center, 2875 University Ave. Voters also
will be allowed to register at the satellite voting center.
The Drake Democrats and College Republicans worked
together to petition for an early vote site at Drake because many students will
be away from campus during the primary election on June 3.
On the Democratic ballot, there are two contested races:
U.S. Representative, Third District — Leonard L. Boswell
and Ed Fallon

State Representative, District 65 — Wayne W. Ford,
Charles Hoffman and Tyler Reedy

On the Republican ticket, there is one contested race:
U.S. Senator — George S. Eichhorn, Steve Rathje and
Christopher Reed

For more information about the June 3 primary, visit the
Polk County Election Web site at http://auditor.co.polk.ia.us/election.htm,
or call the Polk County Auditor's Office at 515-286-3247.