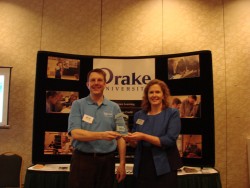 Jean Cross, Online Instructional Designer, and Chuck Sengstock, Director of Extension Education, accepted the award.
Drake University School of Education's online Gifted and Talented Endorsement for K-12 Educators was honored with an award from the Iowa Distance Learning Association.
The award was presented to Jean Cross, Online Instructional Designer, and Chuck Sengstock, Extension Education Director, during Iowa Distance Learning Association's annual conference in Cedar Rapids on Friday, April 18.
"This program would not be successful without many individuals and departments within the Drake community, including Dr. Sally Beisser, who developed the initial syllabi for the courses; Peggy Steinbronn and Deanna Koch, who provide invaluable assistance with Blackboard; and Jay Boomershine and the personnel of the Drake Support Center, who assist our students and instructors when they have questions," said Jean Cross during the ceremony.
Drake launched the online program during the Spring 2007 semester, along with an online version of the two core courses required for the Middle School Endorsement. Each course is designed to offer students a convenient interactive experience with the same high quality as Drake's traditional courses. Along with digital videos and online chats, the courses incorporates group projects using wikis and blogs and even teleconferences. The projects are application oriented and the instructors are some of the top experts in their fields.
" I was worried about the online format, as I am much more of a face-to-face type of person," said Kyra Wilxoc-Conley, "but I found the class interesting, balanced between theory and practical application, and very easy to manage in the online format."
More than 150 students have registered for the Gifted and Talented online courses since Spring 2007. Drake has also introduced an online version of the literacy course required for a Reading Endorsement in Iowa and will soon release an interactive online APA style guide that is modeled after the online courses.
Iowa Distance Learning Association is a chapter of the United States Distance Learning Association. Drake University is a member of the national organization and Dean Janet McMahill is one of the founding members of the state chapter.