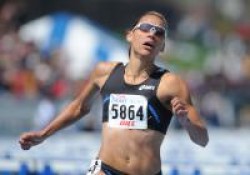 Lolo Jones
Georgia sophomore Chris Hill and reigning World Indoor champion Lolo Jones, who both set meet records, have been named the outstanding men's and women's performers, respectively, of the 2008 Drake Relays.
Jarred Herring, a senior at Burlington High School, and A.G. Bradford, a senior at Davenport North High School, were named the outstanding high school boys' and girls' performers, respectively.
Six meet records were set and one equaled during the 99th running of the Drake Relays April 24-26.
Hill was named as recipient of the Maury White Award, named after the longtime decorated sportswriter for the Des Moines Register, who died in 1999.
Hill set a Drake Relays record in the university-college javelin at 268 feet 1 inch, which is the best throw by any collegian in the United States this spring, as well as the second best overall throw by an American.



Jones, a graduate of Des Moines Roosevelt High School, captured her fourth straight Drake Relays title. She was clocked in 12.74 seconds, just off her 2008 world leading time of 12.72, but good enough to break her previous Drake Relays mark of 12.93 set in 2005.
Jones also bettered the Drake Stadium mark of 12.92 set by former Illinois star Perdita Felicien in 2001.
Standouts also include Cantwell, Harts, Horn and Koll
Christian Cantwell, who won his sixth Drake Relays career men's invitational shot put title, also received votes in the men's division along with sophomore Trey Harts from Baylor.
Running the anchor leg, Harts keyed Baylor to victories in both the men's university 4×100 (40.11) and 4×200 (1:23.77) relays. He also was clocked in 44.3 seconds on the second leg of Baylor's 4×400 relay, which won for the fourth straight year.
Senior Becky Horn, who defended her title in the women's university-college 800 (2:08.55) and also ran a leg on Western Michigan's winning university division sprint medley relay, received votes for outstanding women's performer along with Iowa State sophomore Lisa Koll who won the women's invitational 5,000.


High school athletes recognized
Herring was named recipient of the Robert Kramme Award as the outstanding high school boys performer. He won the 100-meter dash in 10.69 seconds and ran the anchor legs on Burlington's winning 4×100 (43.07) and 4×200 (1:29.93) relays.
Bradford was one of the most versatile performers in the high school girls' division. She became just the fourth athlete in Drake Relays history to capture titles in both the high school girls 100 and 400 hurdles.
Bradford defended her crown in the 100 hurdles on Friday in 14.24 and came back to set a Drake Relays record in the 400 hurdles on Saturday in 1:01.01.
She opened the meet on Thursday by placing second in the girls' high jump at 5-9. She also ran the anchor leg on Burlington's sprint medley relay, which placed third in 1:49.84.
Other athletes receiving votes for the outstanding high school boys' performers were Blake Irwin and Devin Allbaugh from Pleasant Valley.
Irwin was named the outstanding high school boys' athlete at the 2007 Drake Relays. He defended his title in the 1600 this year and also anchored Pleasant Valley to victory in the 4×800 relay.
Allbaugh won the 3,200 (9:22.01) and was second in the 1,600 (4:19.67), while running a leg on the winning 4×800 relay.
Dowling Catholic senior Betsy Flood and Cedar Falls senior Faith Burt collected votes for outstanding high school girls performer.
Flood won the 1,500, was second in the 3,000, fifth in the 800 and ran the first leg on the winning 4×800 relay.
Burt won her third career Drake Relays title in the girls' 100 and also anchored Cedar Falls to victory in the 4×100 relay.