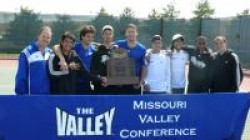 Drake's championship team poses with the MVC trophy.
OMAHA, NEB. – Capping the most-prolific season in Drake men's tennis history, the Bulldogs captured their third consecutive State Farm Missouri Valley Conference Championship title and NCAA Tournament berth with a 4-0 victory over Wichita State on Sunday, April 27.
Drake equaled a school record set during the 2006 campaign with its 24th victory and improved to 24-0 with the triumph, while Wichita State ended its season at 19-5.
"To win our third consecutive title is very difficult and the guys made it look easy," Drake head coach Chase Hodges said.
After dropping the doubles point a day earlier versus Southern Illinois, the Bulldogs made quick work of securing the point earning decisions at the Nos. 1 and 3 positions to assume a 1-0 advantage.
The tandem of senior Dalibor Pavic (Adelaide, Australia) and junior Maor Zirkin (Kibutz Hazor, Israel) rebounded after suffering only their second loss of the dual campaign against the Salukis, posting an 8-0 win against Tiago Espirito Santo and Matt Teivans at the top slot.
Pavic ties Drake's all-time victory record with 206th career win
The victory moved Pavic into a tie atop Drake's all-time victory list with Robert Novotny (1993-97) as he collected his 206th career triumph as a Bulldog.
Freshman Mauricio Ballivian (Santa Cruz, Bolivia) and junior Ivan Mendoza (Wellington, New Zealand) propelled Drake into singles action with a 1-0 lead registering an 8-5 victory versus Thiago Dos Santos and Albert Ballesta.
Recording his 13th consecutive win at No. 6 singles to give the Bulldogs a 2-0 lead was Mendoza, who downed Teivans, 6-0, 6-0.
A year after netting the winning point in Drake's 4-2 title match victory over the Shockers, sophomore Bokang Setshogo (Gaborone, Botswana) again delivered pushing the margin to 3-0 after dispatching of Jonathan Obrist, 6-2, 6-0 at the No. 5 position.
The attention then turned to the second singles court where Zirkin was battling Ballesta. The 2007 MVC Player of the Year, Zirkin came through with a 6-1, 6-1 victory to catapult Drake to its third straight NCAA Tournament appearance.
"It felt amazing to clinch the match as last year I missed the celebration as I was on another court," Zirkin said. "I had a feeling before the match that it would come down to me and that premonition came through."
NCAA Tournament pairings to be announced Tuesday
Drake will find out its tournament draw on Tuesday, April 29, when NCAA Tournament pairings are announced between 1 and 1:30 p.m. on ESPNEWS.
"To three-peat is amazing," Hodges said. "There was a lot of pressure on us to win this championship and the guys got it done. We're happy to be going to the NCAA's for the third straight year.
"After the first championship, the guys were happy just to be there. Last year we were more competitive and felt like we could win, but this year the guys are confident in their ability to earn a victory."


No. 50 Drake def. Wichita State, 4-0

Omaha, Neb. – April 27, 2008

Records: Drake (24-0), Wichita State (19-5)


Singles:

No. 1 No. 76 Dalibor Pavic (DU) vs. Tiago Espirito Santo (WSU), 6-0, 4-5, unfinished
No. 2 Maor Zirkin (DU) def. Albert Ballesta (WSU), 6-1, 6-1
No. 3 Mauricio Ballivian (DU) vs. Thiago Dos Santos (WSU), 6-1, 2-3, unfinished
No. 4 Bokang Setshogo (DU) def. Jonathan Obrist (WSU), 6-2, 6-0
No. 5 Ricardo Lau (DU) vs. Adrian Chermaci (WSU), 3-6, 0-2, unfinished
No. 6 Ivan Mendoza (DU) def. Matt Teivans (WSU), 6-0, 6-0
Doubles:

No. 1 Pavic/Zirkin (DU) def. Espirito Santo/Teivans (WSU) 8-0
No. 2 Lau/Setshogo (DU) vs. Dos Santos/Ballesta (WSU) 7-6, unfinished
No. 3 Ballivian/Mendoza (DU) def. Kevin Gardner/Obrist (WSU) 8-5