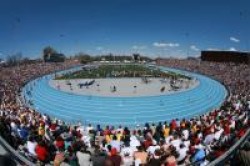 When officials call the Drake Relays track and field extravaganza America's Athletic Classic, they literally mean it.
College and universities from all four corners of the United Stateswill compete this week in the 99th running of the Drake Relays.
There will be colleges and universities representing a whopping 34 states including California (UC Riverside, Long BeachState), Florida (Florida, South Florida, Tampa),Oregon (PortlandState), Vermont(Vermont) and Utah(Utah, UtahState).
A school from every southern state from the east coast to the west coast, with the exception of New Mexico, will attend the Drake Relays.
The University of Manitoba in Winnipeg, Manitoba, Canada, and YorkUniversityin Toronto, Ontario, Canada, also are competing.
Officials expect 7,908 athletes, representing 686 teams, to participate in the Relays.
Athletes will be competing from 8 a.m. to 3:55 p.m. today at Drake Stadium. Drake Relays Under the Lights will take place from 5:30 to 9 p.m. at Drake Stadium.
Various ticket packages are available. For more information on tickets, call 515-271-DOGS or visit the Athletics Web site.
The Drake Relays Downtown Festival will conclude tonight with live music by Towncrier and Electric Junction at the Court Avenue Block Party. The party will start at 7 p.m. at Fourth Street and Court Avenue.
The Relays will continue from 8 a.m. to 6 p.m. Saturday at Drake Stadium. A record 1,800 to 1,900 runners are expected to compete in the Drake half-marathon and 8K road races, which will start at 8 a.m. Saturday outside of Drake Stadium.
Nebraska, Minnesota sending largest teams
Sixty-seven universities are sending 924 competitors in the men's division, while 745 athletes from 68 schools will compete in the men's college division. Nebraska will be sending the largest number of competitors, with 44 making the trip from Lincoln, Neb.
In the women's university division, 1,008 athletes from 73 universities will be competing, while the women's college division has 567 athletes from 64 schools. The Minnesotawomen will be bringing the largest delegation of athletes with 41.
In the high school boys division, 1,186 athletes have entered the Drake Relays from 182 schools. In the high school girls division, 176 teams are sending 1,077 athletes. There also will be 554 grade school and middle school runners representing 56 schools from the greater Des Moines area.
In addition, there will be 147 unattached athletes competing.