John Canarina
MEDIA CONTACT: Lisa
Lacher, 515-271-3119, lisa.lacher@drake.edu
John Canarina,
conductor of the Drake Symphony Orchestra for 35 years, will direct his last
Drake concert on Tuesday, May 6. The performance, Drake's annual Young Artists
Concert, will begin at 8 p.m. on the Jordan Stage in Sheslow Auditorium, Old
Main, 2507 University Ave.
"I
have enjoyed working with students who are dedicated to the improvement of their
ability in music," said Canarina, 73, who will retire at the end of the
spring semester. "I have also enjoyed the dedication and collegiality of
our faculty."
Jay Light, professor emeritus of wind instruments, shares
a similar appreciation for Canarina.
"John is a master of selecting challenging music
programs that give opportunities for students to feature their talents, and are
entertaining for the audience as well," he said. "He brings to Drake
what other universities are not exposed to, which is a professor who knows what
it feels like to stand in front of the New York Philharmonic, a very impressive
experience."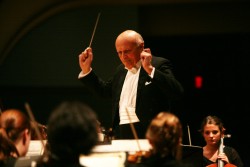 John Canarina conducts the Drake Symphony Orchestra during a performance.
Canarina: internationally renowned conductor
Before joining Drake's Music Department as director of orchestra studies in 1973, Canarina served as assistant conductor of the New York Philharmonic under Leonard Bernstein's direction.
He also was the conductor of the famed Seventh Army Symphony Orchestra during 1959-60, directing nearly 100 highly acclaimed concerts throughout Germany, Italy and France.
From 1962-69, Canarina was conductor and music director of the Jacksonville Symphony Orchestra. In 1964, he was one of four conductors selected to participate in the Peabody-Ford Foundation American Conductors Project with the Baltimore Symphony.
Canarina has been a guest conductor of orchestras in the United States, Canada and Europe, including orchestras of the BBC, the Royal Philharmonic Orchestra, Philharmonia Orchestra of London and Bournemouth Symphony Orchestra in England. He also has held a conducting fellowship at the Tanglewood Music Center with the Boston Symphony Orchestra.
His other accomplishments include writing and publishing two books: "Uncle Sam's Orchestra: Memories of the Seventh Army Symphony," and "Pierre Monteux: Maître."
After retiring, Canarina and his wife, Audrey, plan to move to Savannah, Ga., where he will complete a book on the New York Philharmonic. They look forward to enjoying traveling and the cultural life in Savannah.
Canarina was featured in today's Des Moines Register. The article is available online.


Concert to feature four young artists

The May 6 performance, which is free and open to the public, will feature four Drake student soloists:
Flutist Cherie Knight of Albany, New York

Soprano Leah McIntire of Lamoni, Iowa

Baritone Anthony Di Meglio of Bellevue, Neb.

Soprano Heather Herkelman of Clinton, Iowa
The program includes works by Mozart, Donizetti, Griffes, Gounod, Puccini, Bernstein and Wagner.
After the concert, a reception sponsored by Friends of Drake Arts will honor the Young Artists competition winners will be held in Levitt Hall in Old Main.
For more information about the concert, call 515-271-2108.