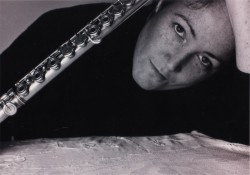 Shelley Binder
MEDIA CONTACT: Lisa Lacher, 515-271-3119, lisa.lacher@drake.edu
Flutist Shelley Binder, associate professor of flute at the University of Tennessee – Knoxville, will present a recital and master class at Drake University on Sunday, April 27.
The performance, which is free and open to the public, will start at 2 p.m. on the Jordan Stage in Sheslow Auditorium in Old Main, 2507 University Ave.
Binder has designed the recital as a tribute to her former teacher and friend, Louis Moÿse, one of the 20th century's foremost flutists and founder of the Marlboro Music School and Festival.
She recently finished writing a biography of Moÿse, who grew up in Paris, France, and studied with his father, Marcel, and Philippe Gaubert. Moÿse concertized in Europe before coming to America, where he taught and performed in Canada and the United States.
The recital will feature compositions and arrangements by Moÿse as well as Georges Hüe, Claude Debussy, Franz Doppler, Franz Schubert and Gary Schocker.
Binder attended North Carolina School for the Arts; the Cincinnati Conservatory; Virginia Commonwealth University; and Florida State University, where she earned her Doctor of Music. She has played with the Virginia Symphony, Virginia Opera and Central Wisconsin Symphony Orchestra. She also has appeared as a recitalist and clinician throughout the United States.
Following the recital, Binder will conduct a master class for Drake students at 4 p.m. in room 204 of the Harmon Fine Arts Center, 25th Street and Carpenter Avenue. The class is free and open to the public.
For more information, contact Leslie Marrs at 515-271-2808 or leslie.marrs@drake.edu.