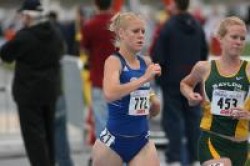 Ashley Anklam
BOSTON — Former Drake standout distance runner Ashley Anklam, running in just her third career marathon, was the top American women's finisher at the Boston Marathon Monday.
Ashley, a third team Academic All-American in track and field at Drake last year, was timed in a personal best of two hours 48 minutes 43 seconds.
"It still hasn't sunk in," said Anklam, who graduated from Drake with a degree in biochemistry, cell and molecular biology in 2007. "It just feels good."
Dire Tune from Ethiopia won the women's race in 2:25.25.
More than 25,000 runners left Hopkinton, a suburb of Boston, under cloudy but calm skies and temperatures in the 50s.
Anklam bettered her best previous marathon time — January in Phoenix — by almost a minute (2:49:30 in Phoenix). In her first marathon she finished 13th at last October's Twin Cities Marathon with a time of 2:58.34.
"I think I've taken to the distance," said Anklam, who was a nine-time All-Missouri Valley Conference performer at Drake. "I plan to do more of them."
Anklam was raised in Bloomington, Minn., attending Holy Angels High School. She said her best finish at the state cross-country meet "was in the 30's . . . . the longer the distance, the better, I guess."
While attending Drake, Anklam won the individual title at the 2006 MVC Cross Country Championship. She was third in the 10,000-meter run and fourth in the 5,000 at the 2007 MVC Outdoor Championships.
Anklam was third in the 5,000 and fourth in the 3,000 at the 2007 MVC Indoor Championship. Anklam ran the 5,000 at the 2006 NCAA Midwest Regional and was third in the 10,000 at the 2006 MVC Outdoor Championship.
Anklam is attending the University of Minnesota medical school. Despite her hectic schedule, she said she'll find time to run more marathons over the coming months.
The Boston Marathon Leaderboard
Top Women Finishers-Open Race
1. Dire Tune ETH 2:25:25
2. Alevtina Biktimirova RUS 2:25:27
3. Rita Jeptoo KEN 2:26:34
4. Jelena Prokopcuka LAT 2:28:12
5. Askale Tafa Magarsa ETH 2:29:48
6. Bruna Genovese ITA 2:30:52
7. Nuta Olaru ROM 2:33:56
8. Robe Tola Guta ETH 2:34:37
9. Lidiya Grigoryeva RUS 2:35:37
10. Stephanie A. Hood CAN 2:44:44
Top American Women Finishers
15. Ashley A. Anklam 2:48:43
16. Kim S. Duclos 2:49:31