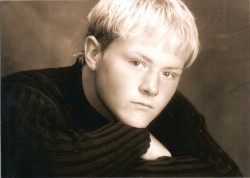 Ryan Timothy Rice
MEDIA CONTACT: Lisa Lacher, 515-271-3119, lisa.lacher@drake.edu
Drake University senior Ryan Timothy Rice will give his senior vocal recital on Sunday, April 27, as a benefit for the American Cancer Society.
Rice, a baritone from Kimball, Minn., will perform "Songs of Travel" at 5:30 p.m. on the Jordan Stage in Sheslow Auditorium in Old Main, 2507 University Ave. The program will feature many styles of music, including works by Handel, Schubert, Brahms, Vaughan Williams and Stephen Foster.
During the intermission, representatives of the American Cancer Society will give a brief, informal presentation about the society and its upcoming Hoops for Hope fund-raising event. Following the recital, there will be a reception in the lobby, where free-will donations benefiting the American Cancer Society will be accepted.
"Early in my life I was directly affected by cancer," Rice said. "My grandmother died of breast cancer, and it really hit me hard. I wanted to do something to benefit others who are suffering from the same disease that took my grandmother.
"I've really worked hard to put together a fun show," he added. "These songs are true favorites, and I couldn't be singing for a better cause."