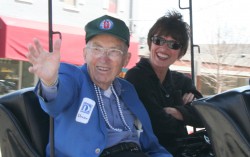 Grand Marshal Paul Morrison and his daughter, Holly Dierks, both Drake graduates, wave to the crowd.
Students and members of the Des Moines community gathered around Drake's campus for the annual Relays Parade on Sunday, April 20.
Paul Morrison, a 1939 graduate of Drake, was the grand marshal in the parade that kicked off the 99th running of the Drake Relays. Morrison, also known as Mr. Drake, has served the athletic department for more than 60 years.
"I was very honored to be parade marshal," said Morrison, 90, Drake athletic historian. "I got to ride in a horse and carriage and it was a beautiful day."
Bags of candy were tossed out to onlookers as floats and cars drove by.
"We had about 65 entries and great participation from the community," said Relays Co-Chair Sara Ballou. "Next year we plan to push for more student participation."
View more photos of the Relays Parade in the online gallery.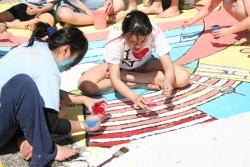 Students get a late start on Street Painting due to Saturday's rainy weather.
In addition to the parade, a number of students took advantage of
Sunday's warm, sunny weather to paint their squares on the Painted
Street, on Carpenter Avenue. Street Painting was canceled on Saturday
due to the wet weather.
The squares represent this year's theme,
"Relays: The Sole of Drake."
Students must have the squares painted by
Thursday, when the squares will be judged.