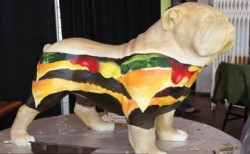 Last year's parade featured the cheeseburger bulldog, which is located by Olmsted Center.
CONTACT: Tory Olson, 515-271-1834, tory.olson@drake.edu
In celebration of the 100th running of the Drake Relays next year, the Bulldog Parade is looking for proud Drake fans to sponsor bulldogs.

Although no bulldogs will be unveiled at this year's Relays, the organizers of the Parade hope a bunch of new bulldogs will decorate the campus and the Des Moines area for the 100th Relays celebration.
"The parade's mission is to integrate Drake University and the Des Moines community through public art," said co-chair Collin Davison.
The fiberglass dogs are sponsored by Des Moines residents and businesses that decorate and paint the dogs. Artists can create bulldogs with color schemes, including Drake blue and white, collages and various themes, such as last year's cheeseburger dog sponsored by Drake's campus dining and catering company.
Last April the first parade featured seven bulldogs that are still displayed across Drake's campus.
For more information on the Bulldog Parade, visit the Web site or contact Davison and Justine LePore at Bulldog.Parade@drake.edu. The cost of each bulldog is $1,500 and covers the fiberglass bulldog and shipping and handling.