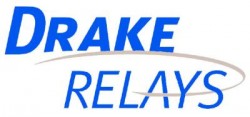 CONTACT: Lisa Lacher, 515-271-3119,
lisa.lacher@drake.edu
Today's Beautiful Bulldog Contest will help launch the 99th running of the Drake Relays.
The 29th annual Beautiful Bulldog Contest will feature 50 bulldogs from six states.
The contest will begin with judging from 10:45 a.m. to noon in Nollen Plaza at Third and Locust streets. The pageant will follow from noon to 1 p.m.
The winning bulldog will serve as the mascot for the Relays this week.
The judges will be:

Mary Brubaker, a Drake graduate and retired broadcast journalist
Renee Hardman, senior vice president of human resources at Bankers Trust Co.
Klayton Korver, a senior on the Drake men's basketball team
Amy Stephens, coach of the Drake women's basketball team
Julie Stewart, director of community relations at Prairie Meadows Race Track and Casino
Bankers Trust and Prairie Meadows are sponsoring this year's Beautiful Bulldog Contest.


Relays activities continue throughout the week
Chief executive officers and local celebrities will compete for the title of Fake Relays Champion from noon to 1 p.m. Tuesday, April 22, in Nollen Plaza. To register, visit www.drakerelays.org.
On Wednesday, April 23, fans can experience a new event at Jordan Creek Town Center in West Des Moines — the Invitational Pole Vault beginning at 6 p.m. and featuring nine elite pole vaulters.
The third annual Elite High Jump Competition will be held at Nollen Plaza at 11:30 a.m. Thursday, April 24, showcasing America's top men's and women's high jumpers.
On Friday, April 25, Court Avenue will be alive with music and people, starting at 7 p.m. Savage Aural Hotbed will appear at the Vaudeville Mews, while Mooseknuckle will perform at Hessen Haus. Ten different venues will offer patrons a wide variety of musical entertainment.


Drake offers live telecast of Relays
Drake University's 2008 student-run Relays telecast will be broadcast live on cable television and on the Drake Web site during the 99th running of the Drake Relays April 25 and 26.
The telecast will be aired live on Mediacom College Channel 16, from 10 a.m. to 5 p.m. on Friday, April 25, and 10 a.m. to 6 p.m. Saturday, April 26.
Viewers also can watch live streaming video of the Relays on the Drake Athletics Web site:

Thursday, April 24 — 4 p.m. to 7 p.m.
Friday, April 25 — 8 a.m. to 9 p.m.
Saturday, April 26 — 8 a.m. to 6 p.m.
Those interested in the live Web cast need to sign up for access by clicking on D-Pack on the Athletics Web site and purchasing one of the Relays packages, which range from $4.95 to $19.95.

Bulldog Parade gears up for 100th Drake Relays
In celebration of the 100th running of the Drake Relays next year, the Bulldog Parade is looking for proud Drake fans to sponsor bulldogs.
Although no bulldogs will be unveiled at this year's Relays, the organizers of the Parade hope a bunch of new bulldogs will decorate the campus and the Des Moines area for the 100th Relays celebration.
"The parade's mission is to integrate Drake University and the Des Moines community through public art," said co-chair Collin Davison.
The fiberglass dogs are sponsored by Des Moines residents and businesses that decorate and paint the dogs. Artists can create bulldogs with color schemes, including Drake blue and white, collages and various themes, such as last year's cheeseburger dog sponsored by Drake's campus dining and catering company.
Last April the first parade featured seven bulldogs that are still displayed across Drake's campus.
For more information on the Bulldog Parade, visit the Web site or contact Davison and Justine LePore at Bulldog.Parade@drake.edu. The cost of each bulldog is $1,500 and covers the fiberglass bulldog along with shipping and handling.