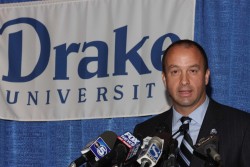 Mark Phelps makes remarks at today's news conference, saying "Thank you very much for entrusting this outstanding program to me."
CONTACT: Mike Mahon, 515-271-3014, drakesid@hotmail.com
Mark Phelps, who has served as associate head coach at Arizona
State the past two seasons, has been named the 25th men's head
basketball coach at Drake University, Athletic Director Sandy Hatfield
Clubb announced today (Monday, April 21).



"I am absolutely thrilled that Mark Phelps will assume leadership
of the Drake University men's basketball program," said Hatfield Clubb.
"His extensive experience as an assistant in the Pac-10 and the ACC,
coupled with his commitment to the holistic development of young men,
make him the ideal candidate to continue the established success of the
Drake Bulldogs.
"Mark is touted as one of the top assistant coaches in college
basketball. His character and his demonstrated passion for the game are
just two of the many outstanding qualities that attracted us to him.
Coach Mark Phelps is a perfect fit for Drake University."
"I am delighted that Coach Phelps and his fiancee, Alissa, are
joining the Drake family," said Drake President David Maxwell. "Drake's
basketball program is firmly grounded in excellence, integrity,
achievement and character, and Mark is just the right person to lead
this group of remarkable young men. We've had a magical season, and
we're excited to see what lies before us with Mark at the helm."
Phelps will inherit a Drake team that has two starters back from a
squad which posted a school-record 28-5 mark en route to winning both
the Missouri Valley Conference regular-season and post-season
tournament titles while advancing to the NCAA Tournament for the first
time since 1971.
"I consider it an honor and privilege to be named the head coach at
Drake University," Phelps said. "President Maxwell has fostered a true
family environment where the 'Drake experience' is a special one for
students, faculty, staff and the entire Drake community.
"I have tremendous respect and great appreciation for Sandy
Hatfield Clubb and look forward to working together with her and the
entire athletic department to continue the pursuit of excellence for
Drake basketball. I could not be more excited about this opportunity."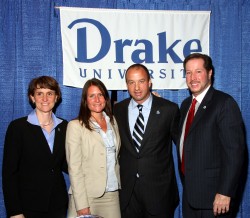 Sandy Hatfield Clubb, Alissa Clancey, Mark Phelps and David Maxwell pose for photos as the news conference ends.
He replaces Keno Davis who resigned to become head coach at Providence College last Tuesday.
The Virginia Beach, Va., native had served on the coaching staff at
North Carolina State under head coach Herb Sendek from 1996-2006 before
joining Sendek at Arizona State in 2006.



"I am grateful for the 12 years Coach Mark Phelps invested on our
staff at both NC State and Arizona State and most certainly recognize
the wonderful impact he made," Sendek said. "Today I rejoice the with
Drake community and congratulate Mark, as he will be the consummate CEO
for the Drake men's basketball program. He will represent the
university as a perfect gentleman and at the same time lead the
basketball program with a true competitive spirit."



Phelps, 42, concluded his 20th year as basketball coach, including
13 years on the collegiate level after a highly successful high school
coaching career.



Phelps was part of Sendek's staff that led North Carolina State to
a 53-39 (.576) record in the Atlantic Coast Conference regular season
and tournament play in the final five seasons in Raleigh, N.C. The
Wolfpack tied for the second most wins in the ACC from 2001-2002
through the 2005-2006 season.



Phelps joined the North Carolina State staff in 1996, serving as
director of basketball operations before becoming assistant coach in
2000. He was promoted to recruiting coordinator, director of scouting
and assistant coach with the Wolfpack in 2005.



The 1996 Old Dominion graduate joined the North Carolina State
program after a highly successful tenure as a high school head coach.



Phelps is extremely familiar with successful basketball programs,
having coached his way to a 148-53 (.736 winning percentage) overall
record during his six years directing a pair of Virginia independent
high school teams.
Phelps spent two seasons (1995-96) at Atlantic Shores Christian
High School in Chesapeake, Va., where his teams compiled a 44-12
record. His 1996 squad finished 20-3 and set school marks for winning
percentage (.870) and fewest losses.



Prior to his tenure at Atlantic Shores, Phelps coached four years
at Rock Church Academy and posted a 104-41 record. His teams played in
the Metro Conference, where he was twice named Coach of the Year as the
Eagles won three straight conference championships.
Each of his last five prep teams advanced to the Virginia
Independent School State Tournament. Four times he coached teams to the
quarterfinals of the state tournament and twice to the state
semifinals. He also served as athletics director at both high schools.