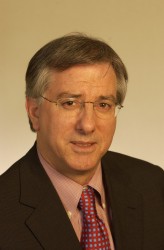 Dennis Ross
CONTACT: David Skidmore, 515-271-3843, david.skidmore@drake.edu;

Lisa Lacher, 515-271-3119, lisa.lacher@drake.edu
Dennis Ross, Middle East envoy and chief peace negotiator in the presidential administrations of George H. W. Bush and Bill Clinton, will give a free, public lecture at Drake University on Wednesday, April 30. The lecture, titled "Statecraft: How to Restore America's Standing in the World," will start at 7 p.m. in Parents Hall in Olmsted Center, 2875 University Ave.
Ross is a counselor and the Ziegler distinguished fellow at the Washington Institute. He has been active in shaping U.S. involvement in the Middle East peace process for more than 12 years.


Ross was instrumental in assisting Israelis and Palestinians to reach the 1995 Interim Agreement successfully brokered the 1997 Hebron accord, facilitated the 1994 Israel-Jordan peace treaty and intensively worked to bring Israel and Syria together.
Iowa Public Television plans to air Ross' lecture at 9 p.m. Thursday, May 8, on IPTV's Plus Digital Channel. Shortly thereafter, it will be streamed on the IPTV Web site.
Ross' lecture will conclude the "America's Role in the World" series, which began last August, sponsored by Drake's Center for Global Citizenship and the Drake Humanities Center.
For more information, contact David Skidmore at david.skidmore@drake.edu.