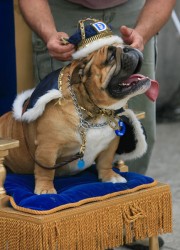 Buddy proudly sits on his throne after being crowned as the Beautiful Bulldog Contest winner.
CONTACT: Tory Olson, 515-271-1834, tory.olson@drake.edu

Buddy, an energetic 3-year-old bulldog owned by George and
Cindy DuBois of Ankeny, Iowa, strut his stuff to accept the crown at today's 29th annual Drake Relays Beautiful Bulldog Contest. He will be the mascot for the 99th running of the Drake Relays April 25-27.
At his first appearance at the contest, the 65-pound pooch
defeated 49 other bulldogs from six states during the beauty pageant in Nollen
Plaza in downtown Des Moines.
"We're pretty proud right now," said George,
looking down at his panting pooch. "It was swell, wasn't it? Way to go
Bud!"
Buddy showed off his shiny red coat, while other bulldogs
were dressed in costumes including princess, biker, rock-star and Drake sports
attire.
"We didn't dress him up because we wanted his pretty
red coat to show. He's gorgeous," said Cindy.
The DuBois' adopted Buddy a few years ago from a breeder
along with his mother, Peggy Sue. "He (the breeder) knew we'd be good
adoptive parents," Cindy said. "He likes our place and gets treated
really well."
"He really likes to be around people." Cindy said,
"He's a people dog."
And that's exactly why Buddy won over the panel of four
judges made up of community members and Drake representatives.
Throughout the week, Buddy will appear at various
Relays events and will be introduced Saturday, April 26, to preside over the
Relays. He also will be featured in next year's Drake Relays Parade.
"We've never been to the Relays and we've always
talked about getting tickets," Cindy said. "We're really
excited."