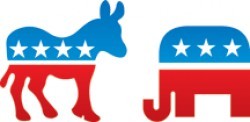 CONTACT: Lisa Lacher, 515-271-3119,
lisa.lacher@drake.edu
Drake University will host a forum on Tuesday, April 29, in which top leaders from Iowa's House and Senate will discuss the 2008 session and election year.



The program, sponsored by Drake, IowaPolitics.com and Mediacom, will be held from 11 a.m. to 12:30 p.m. at Levitt Hall in Old Main, 2507 University Ave. The event is free and open to the public, but reservations are requested.
Confirmed panelists are:

Senate Majority Leader Michael Gronstal, D-Council Bluffs
Senate Minority Leader Ron Wieck, R-Sioux City
House Majority Leader Kevin McCarthy, D-Des Moines
House Minority Whip Kraig Paulsen, R-Hiawatha
Chris Dorsey, Des Moines bureau chief for IowaPolitics.com, will
moderate the program, and questions will be accepted from audience
members.
The program is part of the Drake-IowaPolitics.com Cookies and Conversation series. The series provides a forum where candidates, elected officials and other newsmakers can communicate with interested citizens, as well as Drake students, faculty and staff.
For reservations, call 515-226-8774 or e-mail Julie Rutz at
rutz@IowaPolitics.com. Doors at Levitt Hall will open at 10:45 a.m.
Free parking will be available in Drake lots at 26th Street and
University Avenue and 25th Street and Carpenter Avenue.



IowaPolitics.com is an independent, non-partisan news operation offering a free Web site and paid subscriber products.
The panel discussion will be televised statewide by Mediacom. Tune-in to Mediacom's "Iowa Conversations" program (channel 22) to see legislative leaders discuss the impact and accomplishments of the 2008 session. The schedule is listed below:

Friday, May 2 – 7 p.m.
Saturday, May 3 – 3 p.m.
Sunday, May 4 – 2 p.m.
Monday, May 5 – 7 p.m.
After May 5, the public affairs program can be viewed any time using Mediacom On Demand (channel1; select Mediacom Local). Mediacom Connections is located at channel 22 in most areas of Iowa (channel 5 in Mason City; channel 74 in Iowa City).