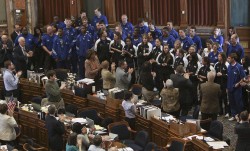 Drake basketball teams get a standing ovation from representatives in the House Chambers.
With a giant stuffed bulldog on his arm, Rep. Wayne Ford, D-Des
Moines, introduced the Drake men's basketball team with an enthusiastic speech
yesterday in the House Chambers at the State Capitol.

The speech was in favor of the Resolution No. 150, which honors
the Bulldog men's and women's basketball teams.
Ford, a 1974 Drake graduate, congratulated "the talented young men
and women" and wished them continued success.
Another Drake graduate Rep. Libby Jacobs, R-West Des Moines, who earned an MPA from Drake in 1986, proudly introduced the women's team and emphasized her support for the
resolution.
The resolution honoring both teams passed unanimously, along with Resolution No. 152, honoring Drake Men's Head Coach Keno Davis.
Senior point guard Adam Emmenecker thanked the representatives for
recognizing the teams.
"It is great to see how many people have come out to support
us," Emmenecker said.
Women's senior guard Lindsay Whorton echoed Emmenecker's comments.
"Thank you for recognizing us today," she said.
"I'm not an Iowa native, but I couldn't feel more welcome and at home in
this state and in Des Moines."
"Adam and Lindsay were exceptional representatives of all
that is great about Drake. I was very proud for everyone involved," said
Rep. J. Scott Raecker, R-Urbandale, executive director of the Institute for
Character Development at Drake.
In addition, the Senate passed similar resolutions recognizing
both teams and Coach Davis — Resolutions No. 144 and No. 145.
"As you can see behind me, this is not an ordinary
resolution," said Sen. Jack Hatch, D- Des Moines, who introduced the
teams.
"It goes to show what happens with dedication and teamwork," said Hatch, who graduated from Drake in 1972 with a bachelor's degree in 1973 and an MPA. "Athletics is a microcosm of
what we do in Iowa."
Basketball
season highlights

The men
won both the Missouri Valley Conference regular season championship and, for
the first time, the MVC tournament crown. The Bulldogs also advanced to the
NCAA Tournament for the first time since 1971, losing to Western Kentucky in
the first round on a buzzer-beater in overtime.
The
women Bulldogs won their first regular season Missouri Valley Conference title
since 2001. They advanced to the MVC championship and were defeated by the
University of Illinois. The team went on to play in the Women's National
Invitation Tournament.