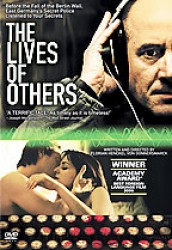 CONTACT: Lisa Lacher, 515-271-3119, lisa.lacher@drake.edu
Drake University's spring International Film Series
will conclude on Sunday, April 20, with a screening of "The Lives of
Others," a German film with English subtitles. The film will begin at 2
p.m. in room 101 of Meredith Hall, 2805 University Ave.
Marc Cadd, Drake associate professor of second
language acquisition, will introduce the film and lead a discussion afterwards.
This film begins in East Berlin in 1984, five years
before Glasnost and the fall of the Berlin Wall and ultimately takes the film
to 1991, in what is now the reunited Germany.
"The Lives of Others" traces the gradual
disillusionment of Captain Gerd Wiesler, a highly skilled officer who works for
the Stasi, East Germany's all-powerful secret police.
The series is sponsored by Drake's Center for Global
Citizenship and the Drake University Language Acquisition Program.