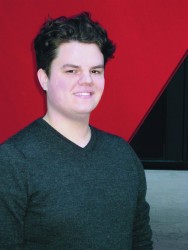 Tanner Stransky
CONTACT: Tory Olson, 515-271-1834, tory.olson@drake.edu

As a writer for Entertainment Weekly, Drake graduate Tanner Stransky is
allowed to pass off his "obsessive" television watching as research
for his work. It was while watching popular shows, including "The
Office" and "Ugly Betty," that he was inspired to write a book
about the portrayal of young professionals on television, incorporating 25
career lessons for real young professionals to follow.

Stransky will return to Des Moines to appear at East Village Books, 510 East Locust St., on Thursday, April 24, to promote his new book, "Find Your Inner Ugly Betty – 25 Career Lessons from TV Shows for Young Professionals." A Lunch-n-Learn session is scheduled for 12-1:30 p.m. Admission is limited to the first 40 people to RSVP, and box lunches will be available to purchase for $6. To RSVP, e-mail meredithmagstudies@drake.edu by April 17.
In addition, he will be available for a meet-and-greet at 5:30 p.m., prior to an author talk at 6:30 p.m. Stransky will share his ideas about being a young professional in the workplace and tips from his new book. The event is free and open to the public.
"The inspiration for the book just comes from the fact
that 'Ugly Betty' is actually a really great example of a young professional
getting her footing in the workplace," said Stransky, a 2005 graduate of
Drake's School of Journalism and Mass Communication.
"So naturally, by taking a closer look at what she's
done right and wrong, you're able to teach young people quite a lot that they
can put to good use in their own jobs."
In his new book, Stransky
incorporates experiences from his professional career and lessons learned via
young professionals on television.
"When I was figuring out what I wanted to cover in the
book, I literally sat down with the first season of 'Ugly Betty' and wrote down
all the different experiences she'd had in her workplace," said Stransky.
"I thought about the three post-collegiate jobs I've had and considered
how advice about Betty's situations could have been most helpful to me when I
was starting out."
One of his former magazine journalism professors at Drake,
Angela Renkoski, is not a bit surprised he's written such a book so early in
his career. "Even when he was here," she said, "Tanner was so
savvy about his career and he was interested in helping others realize their
dream jobs. He actually founded our Ed On Campus chapter as part of Ed2010 and
always lends a hand to aspiring journalists."
Stransky is an editorial assistant at Entertainment Weekly,
writing articles, reviews and blogs for the print magazine and on www.EW.com.
In addition to working at Entertainment Weekly, Stransky is
on staff with "Ed2010," a magazine for career building dedicated to
helping young journalists find their first job in magazine publishing and
progress professionally. His past experience includes writing for the New York
Post, Teen People and several custom publications.
The book, which Chandra Turner, executive editor of
CosmoGIRL! magazine, calls "a must-read for every recent college graduate
embarking on his or her career," is scheduled for release on May 6. The
events at East Village Books will give readers a preview of the book, as well
as the opportunity to meet and speak with the author.

For more information about the events at East Village Books,
contact Angela Renkoski, assistant professor of journalism at Drake, at angela.renkoski@drake.edu.