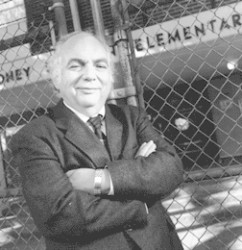 Ernesto Cortés Jr.
CONTACT:
Tory Olson, 51-271-1834, tory.olson@drake.edu
Ernesto
Cortés Jr., an expert on grassroots organizing and former MacArthur fellow,
will visit Drake University to deliver a keynote lecture as part of Drake's
Engaged Citizen Experience on Thursday, April 17.
The
lecture, titled "Towards a Democratic Culture: Faith, Politics and
Justice," will start at 5:30 p.m. in Parents Hall in Olmsted Center, 2875
University Ave.
In
addition, Cortés will visit Professor Art Sanders' Public Intellectual course
and Professor Darcie Vandegrift's The Art of the Interview course.
As
part of Vandegrift's course, students have been interviewing members of A
MidIowa Organizing Strategy — an affiliate of Industrial Areas Foundation, for
whom Cortés is the southwest regional coordinator — about how civic engagement
has transformed their lives and the importance of citizen engagement for Iowa
democracy.
The
lecture and class visits are in conjunction with the Engaged Citizen Experience
2008 Town Hall Meeting, which will follow Cortés' lecture. Students taking
Engaged Citizen courses will lead the audience in small group discussions of
critical issues that they have studied this semester.
The
lecture and meeting are free and open to the Drake community and the general
public.
Cortés is has won the Heinz Award and is a former MacArthur
fellow who emphasizes the importance of individual action and the development
of local leadership to help give voice to those who lack access to power.
In addition, Cortés has trained cadres of organizers who
become a permanent resource capable of mobilizing their communities at the
grassroots level.


The theme for the Engaged Citizen Experience series is
"Voices of Democracy: Dissent and Dialogue." The Engaged Citizen
Experience is a part of the Drake Curriculum, which aims to ensure students
will learn to participate effectively in democratic processes through
coursework and classroom and community activities.