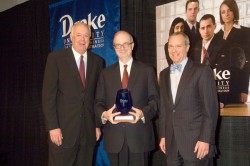 J. Barry Griswell, Bruce G. Kelley and Dean Charlie Edwards at Business Day Banquet.
CONTACT: Tory Olson, 515-271-1834,tory.olson@drake.ed
Bruce G. Kelley, president and CEO of EMC Insurance Cos., recently received the Community Leadership Award from Drake University's College of Business and Public Administration.
Kelley: a community and corporate leader
"Bruce is truly a remarkable community and corporate leader," said Charlie Edwards, dean of the college, at Drake's annual Business Day Banquet. "His efforts throughout the Des Moines community and at Drake University do not go unrecognized."
"As a result of Bruce's dedication to Drake, the Salisbury House, United Way, and so many others, central Iowa is greater than ever," said J. Barry Griswell, the 2007 Community Leadership Award winner and chairman and CEO of Principal Financial Group.
Griswell told an anecdote about asking corporate leaders to help support United Way. He remembered visiting with Kelley, and said he was low-key, practical and no nonsense. At the end of their 15-minute meeting, Kelley committed to a substantial donation.
"It illustrates the type of solid citizen Bruce is–always there supporting the community and doing it quietly. He is willing to take the lead on things he's passionate about–like Drake University and the Salisbury House."
Kelley has been a longtime supporter of Drake and its Kelley Insurance Center. The center is named in honor of the late Robb Kelley, Winifred Kelley and EMC Insurance Cos. in recognition of the support the Kelley family and EMC Insurance Cos. have given the University over the years.
"The Kelley Insurance Center is a shining example of Bruce and his family's commitment to Drake and central Iowa," Griswell said. "The quality of education and ongoing professional development available through the Kelley Insurance Center is an incredible jewel for this community, and a very big contributor to the growth of the financial services industry here in Iowa."
Des Moines roots
Kelley, a native of Des Moines, was an associate with the Des Moines law firm of Bradshaw, Fowler, Proctor and Fairgrave from 1979-84, and then practiced law as a partner until 1985. He joined EMC Insurance Cos. in 1985 as vice president and general counsel. He has been president and CEO since 1992.
He serves on the Board of Governors of the Property and Casualty Insurers Association of America, the Board of Trustees of the American Institute for Property and Casualty Underwriters/Insurance Institute of America and the Property Loss Research Bureau.
Kelley received his bachelor's degree from Dartmouth College in 1976 and attended the University of Iowa College of Law, where he earned his J.D. in 1979.
The Community Leadership Award was created by the College of Business and Public Administration to recognize an individual who has made an impact in the community through their business and individual generosity. The individual must have a record of impact to the community through their personal philanthropy and volunteer service and be affiliated with a business that has made a significant contribution to the Des Moines community.
For more information about the award, contact Sarah Pritchard at sarah.pritchard@drake.edu.