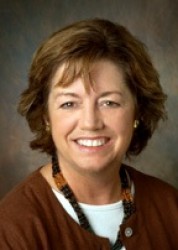 Janice Buss
CONTACT: Maria Bohorquez, 515-271-2595,
maria.bohorquez@drake.edu;
Tory Olson, 515-271-1834, tory.olson@drake.edu
Janice Buss, professor of pharmaceutical sciences at the
University of Kentucky, will present a lecture at noon on Friday, April 11, on
why continued research and discovery is so important for the development of new
drugs to fight cancer.
"The revolution of molecular
biology has created a magnificent flood of new drugs that attempt to disable
the cellular proteins that are the very machinery that controls cell
growth," said Buss, director of graduate studies. "But we can already
see that our first candidates for this new generation of cancer drugs are still
not good enough."
Buss also will describe how her
students found a surprising "secret voyage" by a protein that shows
where to search for new parts of the cellular growth machinery.
"This gives us new places
where we can design molecular monkey wrenches (because that's what drugs really
are) that will stop the growth machinery inside cancer cells," she added.
The lecture, which is part of Drake University's Science
Colloquium Series, is free and open to the public. It will start at noon in
room 206 of Olin Hall, 27th Street and Forest Avenue.
Read more about Buss online. For more information, send an e-mail to maria.bohorquez@drake.edu.