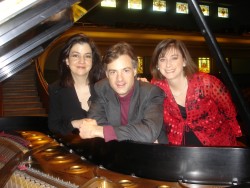 Sarah Plum, Nicholas Roth and Ashley Sandor Sidon gather at the piano in Sheslow Auditorium.
CONTACT: Lisa Lacher, 515-271-3119, lisa.lacher@drake.edu
The Drake University Fine Arts Trio will perform two of the most beloved masterpieces by Beethoven and Brahms in a free concert on Thursday, April 10. The performance will start at 8 p.m. on the Jordan Stage in Sheslow Auditorium in Old Main, 2507 University Ave.
The trio consists of Drake music faculty members Sarah Plum, violin; Nicholas Roth, piano; and Ashley Sandor Sidon, cello.
The program will feature Beethoven's Trio in D Major, also known as "The Ghost," which was composed in 1809 and was his first work in the genre in 11 years.
During this 11-year period, Beethoven was forced to address the painful realization that his hearing disability was progressive and likely incurable. The "Ghost" is a prime example of the innovation and daring that marks Beethoven's later music.
The program also will include Brahms' Trio No. 1 in B Major, Op. 8. The premiere of the first version of this work took place in New York on November 17, 1855. In fact, this piece was the first music by Brahms to be performed in the United States.
Brahms substantially revised the piece 35 years later. The revisions reflect the mastery of economy and efficiency the composer acquired in his later years. This trio remains one of the favorite chamber works of all time.
For more information about the free concert, call 515-271-3975.