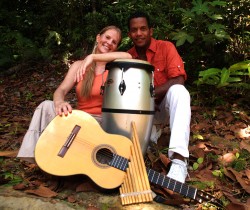 Karin Stein and Ed East
CONTACT: Lisa Lacher, 515-271-3119, lisa.lacher@drake.edu
Drake will commemorate the 118th anniversary of the Organization of American States with a Pan American Day Celebration at 11:30 a.m. Wednesday, April 16, in Olmsted Center, 2875 University Ave.
The celebration features a luncheon, which is open to the public. The event is designed to highlight Latin culture and emphasize the important historical ties between North and South America.
Hilda Prieto, Drake assistant professor emerita of Spanish, and her husband, Antonio, are the founders and organizers of the Pan American Festival, which is sponsored by Drake University and Drake's Dean of Students Office. The event has been celebrated at Drake since 1968.
This year's theme is "Music: Connecting the Americas" (Música: Uniendo las Americas) and will feature entertainment by Calle Sur, a Latin-American musical duo of Ed East and Karin Stein.
East, who is Panamanian, and Stein, who is Colombian, describe their duo as "What happens when you combine man and woman, black and white, urban and rural."
East grew up in Panama City surrounded by noise, hustle and bustle. His upbringing influenced his fierce need for individuality and musical innovation and creativity.
Stein had a very different childhood as a cowgirl in the eastern Llanos or plains of Colombia.
While East rode buses and watched TV, Stein rode horses and watched the red ibis stalk across emerald green rice fields. His veins were filled with the fusion of world beats converging in a big city. Her soul harbored haunting cowboy tunes from her traditional Llanero culture, a fascinating people whose music remains one of Latin America's best-kept secrets.
They met in Iowa and discovered that they both had moved here on student scholarships, stayed, and built a life in a foreign but welcoming land. They perform mostly outside Iowa, however, in venues such as New York, Colorado, Costa Rica, Malaysia and Romania.
They have composed film scores for three documentaries. Recently, one of Stein's compositions was selected for "The Air I Breathe," a feature-length movie. For more information about Calle Sur, visit the duo's Web site.
The cost of the luncheon is $12 per person. Reservations are required and the deadline is Thursday, April 10. For information and reservations, call 515-271-3711.