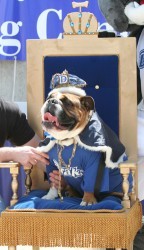 Riggs sits on his throne at last year's contest.
CONTACT: Dolph Pulliam, 515-271-3084, dolph.pulliam@drake.edu;

Lisa Lacher, 515-271-3119, lisa.lacher@drake.edu
Drake University's 29th annual Beautiful Bulldog Contest has been filled to capacity with 50 contestants since February. Even the waiting list is full.
The increasingly popular competition for comely canines will take place Monday, April 21, at Nollen Plaza, Third and Locust streets in downtown Des Moines. The winner will serve as the mascot for the 99th running of the Drake Relays April 24-26.
The contest will begin with judging from 10:45 a.m. to noon. The pageant will follow from noon to 1 p.m.
"This is the first time in 29 years that we've reached capacity two months before the contest," said Drake Director of Community Outreach Dolph Pulliam, who serves as master of ceremonies.
"Some things remain the same, though," he added. "We expect to see bulldogs and their owners again this year come dressed in a variety of amusing and colorful costumes clearly aimed at impressing the judges."
Bulldogs from across Iowa as well as Illinois, Kansas, Minnesota, Nebraska and South Dakota are registered for perhaps the only beauty contest where fangs, bulging eyes, whiskers and wrinkles are considered assets.
Tye Buster Bone of Brookings, S.D., has the distinction of traveling the longest distance to compete — 334 miles. Tye, who is owned by Mike and Jessica Mediger, will be making his first appearance in the contest.
Bankers Trust Co. and Prairie Meadows Race Track and Casino are sponsoring this year's Beautiful Bulldog Contest.
For more information about the competition, call Nancy Strutzenberg at 515-271-4539.
– 30 –