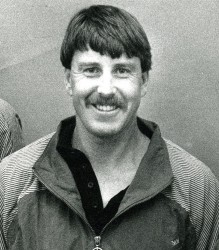 Roger B. Knapp during his coaching days at Drake.
Roger B. Knapp, who was Drake's men's tennis coach from 1989 to 1993, died Sunday, March 30, in Sarasota, Fla., as a result of complications from an aortic aneurism. He was 48.
Knapp, who grew up in Des Moines, is the son of Drake University Trustee Emeritus William C. Knapp and Irene Knapp. He had resided in Florida for the last 13 years.
At Drake, Knapp guided the Bulldogs to two consecutive Missouri Valley Conference championships in 1992 and 1993.
He transformed a program that owned a 3-20 record when he joined Drake in 1989, into a perennial power in the Missouri Valley Conference with nationally ranked players.
He posted a 72-46 coaching record at Drake with the 1992-93 Bulldog team enjoying a 23-7 dual record. That record, at its time, was the most successful season in the history of the program.
Knapp led Drake to the 1992 NCAA team championships for the first time in school history. He was named the 1992 Missouri Valley Conference and Region V Coach of the Year.
Longtime Drake staff member and alumnus Dolph Pulliam remembers Knapp for his "tremendous sense of enthusiasm and high expectations.
"He was able to get his players to buy into that and to put in lots of hard work," added Pulliam, Drake's director of community outreach and development. "I don't think there was anyone on his team who wouldn't outwork his opponent. I used to travel with the team and hang around with the players. Those kids were really determined and were great representatives of this University.
"Roger really built up the team and the program. His 1991-92 team went to the NCAA Tournament for the first time in Drake history. That was a marvelous group of young men, many of whom I still keep in touch with."
Pulliam said he's thankful he got to see Knapp when they both attended the March 21 Drake men's basketball game against Western Kentucky in the first round of the NCAA Tournament in Tampa, Fla.
"I'm so glad we had a chance to say 'Hi!' and give each other a big hug at that game, because we've been such good friends," Pulliam added. "We talked again just last Tuesday and he made me promise I would come down to Florida to play golf with him this summer."
Knapp was a tennis standout from a young age. He was the first tennis player to win the Iowa singles prep tennis title as a freshman (Hoover High School). He took the title again as a sophomore, and transferred to La Jolla High School in California for his junior and senior years.
He won the 1977 Southern California boys-18 championship and was ranked 14th nationally among junior boys. His talent won him a tennis scholarship at the University of Southern California, where he twice earned All-American doubles honors. In 1980 he won the USTA Amateur Indoor title.
After graduating from college in 1982, he played on the professional tennis tour for several years and ranked in the top 100 players in the world. Before moving to Drake, he was assistant coach at USC from 1986-1989, helping guide the Trojans to a 74-19 record including the 1987 Pac-10 title.
Knapp served as a director of Knapp Properties until his death. He was an investor and owner in many of the Knapp family real estate holdings in central Iowa.
He has two daughters: Sable, 18, lives in Des Moines, and Montana, 16, attends school in California. In addition, he is survived by his life partner, Ms. Kem Lindsay, and his sister, Ginny Haviland, who lives in West Des Moines.
"The family is saddened by the sudden loss of their son, brother, uncle, cousin and friends," said Bill Knapp II, chairman of Knapp Properties and Roger Knapp's cousin. "He was a loving man who always had a smile on his face and was willing to offer a helping hand. He was admired for his quick wit and fun-loving spirit. We will all miss him, and we thank all of those who have expressed their sympathy and prayers."
The family will receive friends and relatives from 5 to 8 p.m. Friday, April 4, at Dunn's Funeral Home on Grand Avenue. Funeral services will be held at 1 p.m. Saturday, April 5, at Westminster Presbyterian Church in Des Moines.