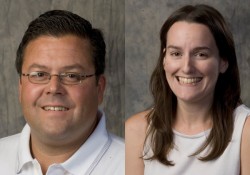 Fred Arroyo and Erica Anzalone
CONTACT: Lisa Lacher, 515-271-3119, lisa.lacher@drake.edu
Drake University faculty members Fred Arroyo and Erica Anzalone will read from their work and discuss writing Tuesday, April 8, as part of Drake University's Writers and Critics Series.
The event, which is free and open to the public, will start at 7:30 p.m. in the Cowles Library Reading Room, 2725 University Ave.
Arroyo, assistant professor of English, is the author of a new novel, "The Region of Lost Names," a love story across two worlds recently published by the University of Arizona Press. Arroyo's stories, poems, interviews and reviews have appeared in various literary journals, and three of his essays are forthcoming in North Dakota Quarterly.
He joined the Drake faculty in fall 2007 and enjoys teaching fiction and nonfiction writing classes. He's at work on a new novel and a book of nonfiction.
Anzalone, a visiting professor of English at Drake, came to Drake from the University of Iowa, where she received an MFA in poetry at the Iowa Writers' Workshop in 2006.
Her primary interests lie in modern and postmodern literature, and she teaches fiction and poetry workshops at Drake. Her poetry has appeared or is forthcoming in Denver Quarterly, Pleiades, Sentence, Mary, Konundrum Engine Literary Review, Coconut, and Greatcoat.
The spring Writers and Critics Series will conclude at 8 p.m. Wednesday, April 30, with the Des Moines National Poetry Festival featuring a presentation by Li-Young Lee in Sheslow Auditorium in Old Main, 2507 University Ave.
For more information, about the series, contact Jennifer Perrine at 515-271-4161 or jennifer.perrine@drake.edu.