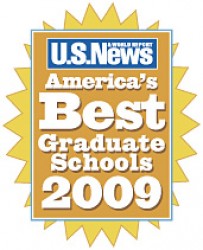 Drake University's College of Pharmacy and Health Sciences improved its score to 2.7 and tied for fifth place among private institutions in the 2009 edition of U.S. News & World Report's "America's Best Graduate Schools."
The magazine's Top Pharmacy Program rankings have been updated for the first time since 2005, when Drake had a score of 2.6.
In the overall rankings, which are dominated by large, public research institutions, Drake ranks 51st. U.S. News ranked 66 pharmacy programs and listed 39 other programs that were not ranked.
"Drake is committed to having an excellent professional program ranked highly among our peer institutions across the country," said Raylene Rospond, dean of the college. "The improved score demonstrates our commitment to continuous quality improvement."
For additional information about the rankings, visit the U.S. News Web site.
The College of Pharmacy and Health Sciences provides an intellectually stimulating learning environment with collaborative learning among students, faculty and staff.
Graduates are liberally educated professionals who are dedicated to serving their clients, patients, profession, and community. The college emphasizes excellence and leadership in professional education, service and scholarship.
For more information about the college, visit its Web site.