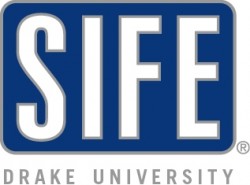 CONTACT: Cliffton Murove, 515-707-8527,
ctm001@drake.edu
;
Lisa Lacher, 515-271-3119,
lisa.lacher@drake.edu
;
The Drake University Students in Free Enterprise (SIFE) team will advance to the SIFE USA National Exposition in Chicago on May 13-15.
The team earned the opportunity to compete at the national level by being selected as one of 20 national finalists in the SIFE USA Regional Competition in Minneapolis on March 26. The event was one of 16 regional competitions being held across the United States this spring.
In specific categories, the team was selected as a national finalist in both the SIFE USA Clorox Market Economics Competition and the SIFE GE Consumer Products Program Sustainability Competition.
After presenting a report of their year-long community outreach projects, the team was judged on its overall score by a panel of business leaders. The Drake team won second runner-up overall in the regional competition that drew 26 teams.
"For a team that began the year with only four students to accomplishing so much during the year and being named amongst the nation's best is truly a remarkable achievement," said Cliffton Murove, president of Drake SIFE, which has grown to 32 students.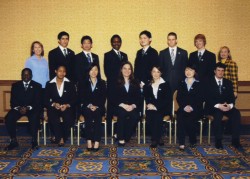 Faculty advisers Deb Bishop and Dorothy Pisarski pose with the Drake team at the regional tourney.
During this academic year, the Drake SIFE team organized 12 projects in
the Des Moines community including collecting school supplies for
students in Uganda and teaching success skills to the Girls Club at
Summit Middle School in Johnston. Students taught topics including,
time management, the importance of networking, asking questions and
dealing with rejection.
"I was incredibly proud of our SIFE team's accomplishments this year.
Their teamwork and diligence resulted in a tremendous impact on Drake
University, the Des Moines community and students in Uganda," said Drake Assistant Professor Deb
Bishop, the team's Sam Walton fellow and adviser.
Dorothy Pisarski, assistant professor of advertising, also advises the Drake team. The advisers and team members posed for a photo at the regional competition. They are identified as follows from left to right:

Front Row: Oluwole Aluko-Olokun, Sandra Igboanugo,
Ching He, Jeanette Sterner, Elizabeth Schmid, Zhouxialou Ding, Pat
Sheehan
Back Row: Deb Bishop, Carlos Villa,
Clement Ngu, Cliffton Murove, Shaochen Yu, Ethan Kerzner, Luke Dawson,
Dorothy Pisarski
SIFE is an international non-profit organization active on more than
1,400 university campuses in 48 countries. SIFE teams create economic
opportunities in their communities by organizing outreach projects that
focuses on: market economics, entrepreneurship, personal financial
success skills, and business ethics.
Read more about Drake SIFE online. Additional information about SIFE is available on the Web site.