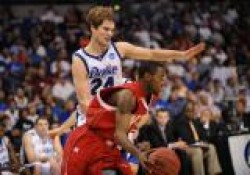 Senior Klayton Korver
The Drake men's basketball team is scheduled to return to Des Moines from the NCAA Tournament at 1 p.m. today. The Bulldogs, who lost to Western Kentucky, 101-99 at the buzzer Friday, are traveling on a charter flight that will land at Signature Air, north of the main terminal at Des Moines International Airport.
"I think it would be great if we get lots of Drake fans to come out to welcome the team back to Des Moines and to celebrate the Bulldogs' extraordinary season," said Drake fan and Iowa Rep. Scott Raecker, R-Urbandale.
The Bulldogs are expected to board a bus on the tarmac and head for the Drake Knapp Center, 2525 Forest Ave., where they will enter the building on the north side.