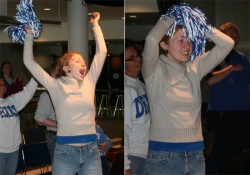 Graduate student Michelle Orfield's exuberant cheers give way to shock and dismay at Drake's defeat.
Tampa, Fla. — Drake's Cinderella season ended at the buzzer today when Ty Rogers scored a 26-foot 3-pointer as time expired and Western Kentucky defeated the Bulldogs, 101-99, in overtime in the first round of the NCAA Tournament.
Before the last shot, Drake was in the lead, 99-98, with 5.7 seconds left after junior forward Jonathan Cox made two free throws.
As the game clock counted down, fans watching the game in Drake's Olmsted Center hurtled full speed ahead on an emotional rollercoaster. In just a few seconds, they went from the jubilant expectation of winning to the dismay of losing at the last possible moment.
"This is such stress," said Charlene Skidmore, assistant director of the Honors Program and First-Year Seminar Program. "I can't imagine what our guys are thinking. They deserved to win it."
View photos from the watch party at Olmsted Center in the online gallery.
Additional coverage of the game and postgame news conference is available on the Drake Athletics Web site.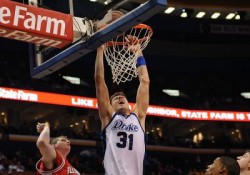 Jonathan Cox scored 29 points and grabbed 16 rebounds — both career highs.
Game highlights
The loss ended one of the top seasons in school history for the Bulldogs who were making their first appearance in the NCAA Tournament since 1971.
No. 5 seeded Drake, which closed out the year with a 28-5 record, overcame a 16-point deficit with 11 minutes 51 seconds left in regulation.
Two free throws by Cox with 5.7 seconds left had given Drake a 99-98 lead before Rogers' heroics.
Western Kentucky guard Tyron Brazelton raced across midcourt before rifling a pass to Rogers who made the dramatic basket from the right wing over three Drake defenders.
The two teams set two NCAA Tournament records, combining to make 30 three-point baskets in 70 three-point attempts.
Cox, a second-team All-Missouri Valley Conference performer, played his greatest game in a Drake uniform, scoring a career-high 29 points while grabbing a career-high 16 rebounds.
A three-point basket by Cox from the left baseline with 30-seconds left in regulation capped Drake's second-half comeback to send the game into overtime tied at 98-98.
Senior forward Klayton Korver scored 21 points for Drake, making six three-point baskets. He moved into a tie on the school career three-point basket made list at 241.
Senior guard Adam Emmenecker enjoyed his fourth double-double of the season, with 11 points and a career-high 14 assists.
For more coverage of the game, visit the Des Moines Register's Web site.