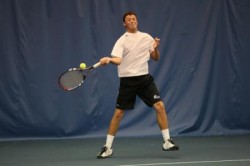 Dalibor Pavic
ST. LOUIS, MO. – The Missouri Valley Conference has announced that Drake senior Dalibor Pavic (Adelaide, Australia) has been selected as the State Farm/MVC Men's Tennis Player of the Week. This marks the third such honor for Pavic this spring and fourth overall for a Drake men's tennis player this season.
Pavic went a perfect 7-0 in combined singles/doubles matches last week sparking No. 37 Drake to victories over College of Charleston (March 17), No. 74 Elon (March 19), East Carolina (March 21) and UNC Wilmington (March 22).
Pavic is a combined 47-8 this season, including 29-4 in singles and 18-4 in doubles, respectively. He is currently third in school history with 192 career victories.
Drake (16-0) opens its MVC slate this Saturday (March 29) as the Bulldogs host Creighton at the Drake Tennis Center starting at 1 p.m.
On Saturday, March 22, the
Drake men's tennis team capped a perfect spring trip as the Bulldogs notched
their nation's best 36th straight regular season triumph with a 6-1 victory over
UNC Wilmington.


Drake will enter Missouri
Valley Conference action Saturday with an unblemished 16-0 ledger, while
the Seahawks' record dropped to 9-5.

"It was nice to
finish our trip on a high with a victory over my alma mater," Bulldog head
coach Chase Hodges said. "We're looking forward to the start of conference
play next weekend against Creighton."

Splitting the doubles
matches at the top two positions, Drake secured the doubles point after the
tandem of freshman Mauricio Ballivian (Santa Cruz, Bolivia) and junior Ivan
MendozaI (Wellington, New Zealand) netted an 8-4 decision at No. 3 over Illia
Ziamtsou and Alex Wetherell.


Sophomore Bokang Setshogo
(Gaborone, Botswana) gave the Bulldogs a 2-0 lead notching a 6-2, 6-0 win at
the fifth position against Ziamtsou.


The margin swelled to 3-0
on the strength of a 6-4, 6-2 win by senior Dalibor Pavic (Adelaide, Australia)
at No. 1 versus Michael Pereira.


Mendoza then sealed Drake's
victory with a 6-3, 6-1 decision at No. 6 against Brian Ford.


Rounding out the victory
total for the Bulldogs was junior Maor Zirkin (KIbutz Hazor, Israel) and
Ballivian. Zirkin downed Gustavo Bertei, 6-1, 6-4 at the second slot, while
Ballivian bettered Wetherell at No. 5, 6-2, 6-0.


No. 42 Drake def. UNC
Wilmington, 6-1
Wilmington, N.C. – March
22, 2008

Records: Drake (16-0), UNC
Wilmington (9-5)


Singles:

No. 1 No. 64 Dalibor Pavic
(DU) def. Michael Pereira (UNCW), 6-4, 6-2

No. 2 Maor Zirkin (DU)
def. Gustavo Bertei (UNCW), 6-1, 6-4

No. 3 Kinshuk Sharma
(UNCW) def. Ricardo Lau (DU), 3-6, 6-4, 10-7

No. 4 Mauricio Ballivian
(DU) def. Illia Ziamtsou (UNCW), 7-5, 6-0

No. 5 Bokang Setshogo (DU)
def. Alex Wetherell (UNCW), 6-2, 6-0

No. 6 Ivan Mendoza (DU)
def. Brian Ford (UNCW), 6-3, 6-1


Doubles:

No. 1 Pavic/Zirkin def.
Pereira/Sharma (UNCW), 8-5

No. 2 Bertei/Ford (UNCW)
def. Setshogo/Lau (DU), 8-2

No. 3 Ballivian/Mendoza
(DU) def. Wetherell/Ziamtsou (UNCW), 8-4