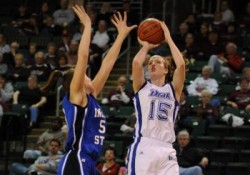 Lindsay Whorton
DES MOINES, IOWA —
Drake erased a nine-point second-half deficit en route to a 65-56 victory over
Green Bay in the first round of the Women's National Invitation Tournament on
Saturday, March 22.
The win was fueled by
18 points from senior Lindsay Whorton (Independence, Mo./Truman) and the 41st
career double-double by senior Jill Martin (Norwalk, Iowa/Norwalk).
The victory will
take the Bulldogs (23-10) to the second round of the tournament and a date at
Illinois (19-14) at 7 p.m. on Monday, March 24, in Champaign, Ill. The Phoenix
dropped back-to-back games for the first time since the conclusion of the
2005-06 campaign and ended its season at 26-6.
"I'm really proud
of my team the way they defended the three and controlled the boards," Drake
head coach Amy Stephens said. "We beat a very good Green Bay team this
afternoon. Lindsay (Whorton) and Jill (Martin) were phenomenal in leading the
team and scoring the ball."
In a game that
featured big scoring streaks by both teams, it was the Bulldogs that survived a
nine-minute six-second stretch midway through the affair in which they missed
15 of 16 attempt to prevail with the final run of the game. After the Phoenix
took a 45-36 lead with 12:44 to go in the game, Drake rattled off 24 of the
game's next 30 points to own a 60-51 lead with under two minutes to play.
Whorton and junior
Kelsey Keizer (Arnolds Park, Iowa/Okoboji) led the surge with six points
apiece.
Whorton capped a
9-0 run in that span that gave the Bulldogs their first lead of the second half
connecting on a three-pointer from the far left corner with 7:21 remaining.
Green Bay regained the lead on a jumper by Lavesa Glover but it proved to be
short-lived as Keizer put Drake ahead for good on a lay-up at the 6:07 mark.
Sophomore Jordann
Plummer (St. Louis, Mo./Cardinal Ritter) gave Drake its biggest margin in the
contest, 60-51, hitting a pair of free throws with 1:59 left.
Glover broke the
Bulldogs' run with a jumper and Celeste Hoewisch converted a lay-up to cut the
deficit to five points, 60-55.
Drake sealed its
first postseason victory since downing Baylor, 76-72, on March 17, 2002 in the
NCAA Tournament, with a pair of made free throws from Whorton, Plummer and one
off the hands of sophomore Monique' Jones (Lee's Summit, Mo./Lee's Summit
North).
Whorton paced the
Bulldogs with an 18-point effort, with all of her points coming off of
three-pointers, as she shot 45.5 percent (5-of-11) beyond the arc.
Martin finished the
affair with 15 points, while snatching a game- and career-high 16 rebounds to
post her 41st career double-double, including her league-leading 15th of the
season. With her first rebound of the second half, Martin became only the fifth
player in Drake history to record at least 1,000 points and 1,000 rebounds
joining Lorri Bauman (3,115 points/1,050 rebounds), Wanda Ford (2,636
points/1,815 rebounds), Jan Krieger (1,846 points/1,214 rebounds) and Sharon
Upshaw (2,513 points/1,675 rebounds).
Coming off the
bench to spark the Bulldog comeback with a season highs in points (12) and
rebounds (8) was Keizer. Plummer added eight points, four assists and three
steals, while junior Ashleigh Brady (Lubbock, Texas/Frenship) distributed a
career- and game-best five assists against no turnovers.
Glover headlined
all scorers with 23 points for the Phoenix.
"I thought our
defense was good and a critical point in second half when we got down nine we
remained composed and challenged our players to get stops and we made a nice
run and I'm really proud of players," Stephens commented. "Lindsay shot the
ball really well today and is a phenomenal leader and fierce competitor and we
seem to feed off her ability to make threes all the time as she is fearless so
she is going to keep shooting."

Green Bay took an
early lead in the first half, leading by as much as six and owning a 17-12 lead
with 8:31 to go. That's when Drake went on a 14-0 run, fueled by a trio of
three pointers, one of which was part of a four-point play by Whorton.
After a basket by junior
Lauren Dybing (Bloomington, Minn./St. Croix Lutheran) powered Drake to a 28-21
lead with 3:45 left in the first half, the Phoenix reeled off eight straight
points capped by a Kati Harty lay-up to grab a 29-28 halftime lead.
Green Bay's run continued
into the second half, as Glover scored 12 of team's first 14 points of the
stanza as the team shot 8-of-11 out of the locker room. But as hot as the team
was to start, the Drake defense ratcheted up and limited the Phoenix to just 11
points over the final 12:44 of the game.
Green Bay finished the
contest shooting 42.6 percent to Drake's 34.4 percent, but the Bulldogs were
7-of-21 from long range. After connecting on 10 three-pointers in the team's
earlier meeting (Nov. 9), the Phoenix hit just one of seven three-point
attempts.
The Bulldogs dominated the boards, outrebounding the Phoenix, 49-30, including 19-5 on the offensive glass.