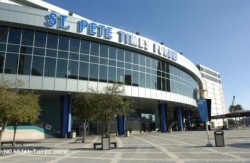 The men's basketball team will play Western Kentucky in the St. Pete Times Forum in Tampa, Fla.
Drake University alumni and friends of the Bulldogs will gather accross the nation to watch the 2008 Missouri Valley Conference Champion Drake men's basketball team compete in the West Regional of the NCAA Basketball Tournament in Tampa, Fla.
In addition, the Drake women's basketball team has
earned a berth in the Women's National Invitation Tournament, and will host Green Bay at 4:07 p.m. on Saturday, March 22, at the Drake Knapp Center. More information on the WNIT is available online.
The NCAA game and how to watch it

The Bulldog men will play Western
Kentucky at 11:30 a.m. CST on Friday, March 21, at the St. Pete
Times Forum in Tampa, Fla. Should the Bulldogs advance to the second
round, the game would take place at either 11:10 a.m. or 1:40 p.m. CST. Tournament details are available on the Drake Athletics Web site.
The NCAA Tournament Drake games will be broadcast
on CBS affiliates in various
markets. Tim Brando and Mike Gminski will handle the announcing duties for the first and second round games in Tampa. If you are a DirecTV
subscriber, you can pick up the Mega March Madness
package to get tournament games outside of your market area for $69. To get this package, visit the Web site. To watch the NCAA
Tournament games online, access the NCAA's streaming coverage option on the Web site.
The game will be described by Larry Cotlar and Dolph Pulliam on KRNT radio (1350 AM) in Des Moines and also will be carried on Westwood One Radio.
Planning to be in Tampa?

For Drake alumni and friends of
the Bulldogs, the Drake University Alumni Association will host pre-game
receptions prior to each Bulldog game in Tampa. The gatherings will start three hours before each Drake game at Stumps Supper Club, located at 615 Channelside
Drive (three blocks from the arena). Contact Stumps at 813-226-2261.
Also,
join alumni in Tampa from 8-11 p.m. on Thursday, March 20, at Dirty Shame Pub, 1929 E. 7th Avenue for
an evening of fun and entertainment. Appearing Live…just for Drake Bulldog
fans…will be the Hat Trick Heroes (Combustion Music recording artists) to get
everybody rockin'. It's a free event if you are wearing Drake colors!
For more information on the
first and second rounds of the tournament, please visit the Drake
Athletic department's "Tournament Central" online. At this time, Drake's ticket allotment has been depleted,
but you can contact the arena (St. Pete Times Forum) at 813-301-6500 to check availability of
remaining tickets.
Join Fellow Bulldog Faithful
For fans in Iowa who are not heading to Tampa, join fellow Bulldogs starting at 11:30 a.m. on Friday, March 21, for game watch parties during Drake's run this weekend at:
Boston's
Pizza, 12401 University Avenue in Clive
inPlay, 615 3rdStreet in Downtown Des Moines

Drake University's Student Life Center, Pomerantz Stage in Olmsted Center, 2875 University Ave.
Planned game watch gatherings across the nation
Additional game-watch opportunities around the country are listed below. If you do not see your city listed and
you would like to host a game-watch party for fellow Bulldog faithful, please
call the Drake University Alumni office at 800-44-DRAKE, ext. 2500.
Chicago (city)

— Mother Hubbard's, 5
West Hubbard Street, phone: 312-828-0007;

contact: Jeremy Glenn at

jeremy.glenn@mbtlaw.com

Chicago (suburbs)

— Arena Sports
Grille, 630 West Lake St, Elmhurst, IL (Friday only),
www.arenasportsgrille.com; contact: Chris Swan at swan@rsmr.com

Peoria

— Vonachen's Old Place, 5934
N. Knoxville, phone: 309-692-7033; contact:

Dave Zentgraf at

david_zentgraf@hotmail.com

Twin Cities

— FRIDAY: Joe Senser's
Sports Theater, 16605 County Road 24, Suite 210, Plymouth MN; SUNDAY: Joe
Senser's, 4217 American Blvd West,

Bloomington, MN, contact: Nick Hugunin at

nhugunin@lblco.com

Raleigh

— Macgregor Draft House, 107
Edinburgh South, Cary, NC, phone: 919-461-1633; contact: Kim
Braschwitz at kim.braschwitz@tekelec.com

St. Louis

— J. Bucks, 1000 Clark
Avenue (Friday only), phone: 314-436-0394

Denver

— Sports Column, 1930 Blake
Street, phone: 303-296-1930

Kansas City

— 810Zone, 4686 Broadway
(Country Club Plaza), phone: 816-268-9663

Washington D.C.

— Penn Quarter Sports
Tavern, 639 Indiana Avenue NW, phone: 202-347-6666

Sarasota

— Sports Page, 1319 Main
St, Sarasota, FL, phone: 941-365-0469

Cincinnati

— Willie's, 8740
Montgomery Road, phone: 513-891-2204
Charlotte, North Carolina — Fox and Hound, 15235 John J Delaney Drive (Ballantyne
area), phone: 707-544-8902, contact: Brad Golke, BN'93
Council Bluffs — Barley's Bar and Grill 114 W Broadway phone: 712-322-0306, contact:
TJ Patterman, AS'90, 402-740-8430 or tjpattermann@smithpeterson.com

Omaha — Tiger Tom's Pub and Grill

,

7103 Military Ave., Omaha, Neb., phone: 402-572-8400, Contact:
Kris Covi, AS'95, phone: 402-896-4208
2007-08 Drake Basketball
2008 NCAA Tournament, West
Regional Schedule of Games in Tampa, Fla.
Friday, March 21 – Session I
· Game 1 – #5 Drake (28-4) vs. #12 Western Kentucky
(27-6) 12:30 p.m. EST

· Game 2 – #4 Connecticut (24-8) vs. #13 San Diego
(21-13), 30 minutes after

Friday, March 21 – Session II

· Game 3 – #4 Vanderbilt (26-7) vs. #13 Siena (22-10),
7:20 p.m. EST

· Game 4 – #5 Clemson (24-9) vs. #12 Villanova (20-12),
30 minutes after

Sunday, March 23 – Session III

· Game 5 – Game 3 Winner vs. Game 4 Winner, 12:10 EST

· Game 6 – Game 1 Winner vs. Game 2 Winner, 30 minutes
after

Probable starting lineups
Drake Bulldogs: 28-4, 15-3 MVC (Coach: Keno Davis, first
year)

Pos. Player (Ht., Yr., Hometown) PPG RPG FG% FT%

G-5 Leonard Houston (6-3, Sr., Holland, Mich.) 14.0 4.4 .427 .782
G-15 Adam Emmenecker (6-1, Sr., Saginaw, Mich.) 8.5 4.6 .488 .826

G-20 Josh Young (6-1, So., Lawton, Okla.) 15.8 2.5 .464 .756

F-24 Klayton Korver (6-5, Sr., Pella, Iowa) 10.0 4.0 .365 .878

F-31 Jonathan Cox (6-8, Jr., Barrington, Ill.) 11.8 8.3 .502 .765

Top Reserves

F-4 Brent Heemskerk (6-8, Jr., Grand Rapids, Mich.) 4.8 3.4 .690 .472

G-11 Jacob Baryenbruch (6-0, Jr., Spring Green, Wis.) 2.2 0.7 .284 .727

G-23 Josh Parker (6-0, Fr., Harvey, Ill.) 2.1 1.0 .365 .667
F- 50 John Michael Hall (6-5, Jr., Moultrie, Ga.) 3.6 1.2 .423 .789


The setting
Drake, appearing in its first post-season game since 1986,
will make its fourth appearance in the NCAA Tournament facing Western Kentucky
in the first round of the West Regional.
The Bulldogs earned a No. 5 seed, while Western Kentucky is
seeded No. 12. The winner will advance to Sunday's second round, playing the
winner of the UConn/San Diego game, which will be played Friday afternoon.