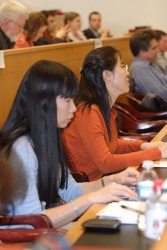 Scholars representing five countries attended the first annual IP Scholars Roundtable.
Scholars from the United States to Europe to China gathered recently at Drake Law School for its first annual Intellectual Property Scholars Roundtable.
"This annual roundtable begins a new tradition at Drake University Law School," said professor Peter K. Yu, the Kern Family chair in intellectual property law and founding director of the Intellectual Property Law Center.
"It attracted about 50 scholars from five different countries and covered a wide range of disciplines — from law to marketing and from pharmacy to intellectual property management," he added. "Like the famous Iowa Caucus, this event will position Drake University as a national focal point for intellectual property research and education."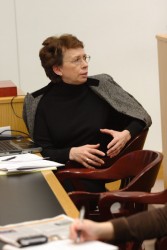 Gail Evans of Queen Mary, University of London, gives advice to scholars presenting articles.
From cyberspace to copyrights
The roundtable featured professors presenting research on intellectual property law issues, such as copyrights, patents, trademarks, cyberspace and competition laws.
"The event explored an especially wide selection of topics ranging from agricultural development and the protection of geographical indications such as 'Iowa-80 Beef,' to the novel legal issues associated with social networking Web sites such as Facebook," said Gail Evans of Queen Mary, University of London.
The presented papers were characterized by their stage of development — gathering ingredients, very raw, fairly raw, raw, somewhat baked, half-baked, baked, ready to serve — indicating where professors were in the research and writing process.
"This roundtable is unique in a way that the participants do not only present their latest research, but expect to receive substantial feedback on their drafts," said Yu. "It is like a series of live peer reviews. The quality of the presentations was very high, and the back-and-forth exchange among the country's leading scholars was just invaluable."
"Professor Peter Yu's Intellectual Property Roundtable provided an engaging and rich experience for participants interested in the interactions between intellectual property law and the community at large," Evans said.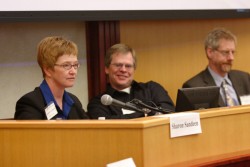 Sharon Sandeen, Michael Madison and Michael Carroll on the veteran scholars panel.
Tips on scholarship from scholars
After the presentations, the roundtable included a panel of veteran scholars who shared war stories with the participants while offering mentoring advice.
The "Veteran Panel" consisted of:
Michael Carroll of Villanova University School of Law
Steven Hetcher of Vanderbilt Law School;
Michael Madison of the University of Pittsburgh School of Law;
Mark Janis of the University of Iowa College of Law; and
Sharon Sandeen of Hamline University School of Law.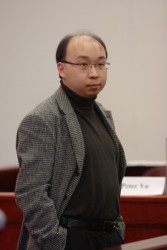 Peter K. Yu
Yu advances the Intellectual Property Law Center
Yu is a leading expert in international intellectual property and communications law. He is also the author or editor of three books and more than 40 law review articles and book chapters.
His lectures and presentations have spanned more than 15 countries on five continents, and he is a frequent commentator in the national and international media. His publications have been translated into Chinese, Croatian and Japanese.
He is also the co-founder of the pioneering Annual Intellectual Property Scholars Conference, which rotates every summer among Cardozo, DePaul, Stanford and the University of California, Berkeley law schools.
The Intellectual Property Law Center was established in fall 2007 with the generous support of: a $1.5 million endowment gift from 1972 Drake Law School graduate Wayne Kern and his wife, Donna; and $750,000 leadership commitment from Pioneer Hi-Bred International Inc., a subsidiary of DuPont.