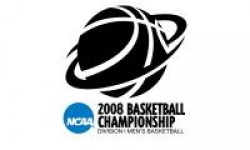 INDIANAPOLIS, IND. — The Drake men's basketball team will play Western Kentucky at 11:35 a.m. CDT today (Friday, March 21) in the first round of the NCAA Tournament in Tampa, Fla. Western Kentucky, which is seeded No. 12, owns a 27-6 record.
The winner of that game will play the winner of the UConn-San Diego contest in Sunday's second round of the NCAA Tournament.
The Bulldogs, who have been idle since earning the automatic qualifying berth by winning the State Farm Missouri Valley Conference tournament March 9, earned a No. 5 seed in the West Regional. UCLA is the No. 1 seed in the West Regional.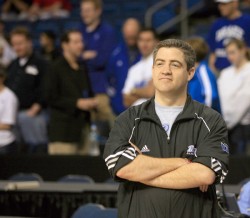 Head Coach Keno Davis watches his team practice in Tampa.
"Even when you know you are an automatic bid, you still get nervous
and excited to see your name up there. So it's a kind of a sense of
relief when you do," said first-year Drake coach Keno Davis. "Western Kentucky has been a great tradition and this match up will be a tremendous challenge for us."
This
will mark Drake's fourth appearance in the NCAA Tournament but first
since 1971 when the Bulldogs finished as runner up in the Midwest
Regional.





Visit the online photo gallery to see the Bulldogs prepare for today's game.
The Bulldogs, riding a four-game winning streak, will bring a school-record 28-4 mark into the game.
Approximately 3,000 fans attended the Selection Sunday celebration at the Drake Knapp Center Sunday.
"It was a little nerve racking, you know, waiting for our name to appear on the bracket," said Drake senior guard Adam Emmenecker.
"You don't get nervous for games, but there were butterflies today. . .
. It was exciting to have all these people come out and support us."
Drake and Western Kentucky have played two common
opponents. Both schools beat North Carolina Central with Drake earning
an 85-49 home victory Nov. 30, while Western Kentucky claimed an 84-53
triumph Dec. 18.
Western Kentucky dropped an 88-78 decision at Southern
Illinois Dec. 22, while Drake split the season series with the Salukis
winning, 61-51 in Des Moines and falling, 65-62, in Carbondale.
For more information, visit the Drake Athletics Web site.