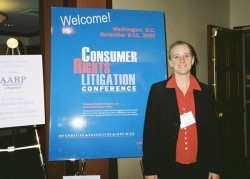 Anna K. Ryon after completing a presentation at a conference.
Third-year Drake law student Anna K. Ryon is working to co-author a law review article with Iowa Supreme Court Justice Brent Appel as part of the Law School's Iowa Supreme Court Scholar Internship program.
"It has been a great experience so far," said Ryon, an Opperman Scholar. "Justice Appel has a lot of ideas and working with him has been fabulous. The one-on-one experience with someone with the type of legal background he has makes for a great learning experience."
Ryon was selected for this position by the Associate Dean Russ Lovell and faculty advisers to the Drake Law Review and the Agricultural Law Journal.
Criteria for the internship program include:
commitment to scholarship through participation in a law journal with significant research for publication

a previous judicial internship

American Judicature Society internship

strong academic record and faculty recommendations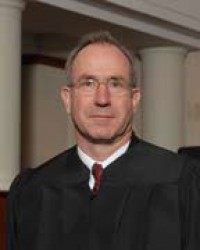 Justice Brent Appel
Appel selected the topic of the law review article, which aims to explore the structure, process and legal context of both caucus and primary elections, focusing specifically on the Iowa caucuses.
Upon completion, Appel and Ryon will submit the article for publication in several law journals.
"It's been a pleasure working with Anna Ryon," Appel said. "We have a very interesting topic that involves presidential nomination process. The Supreme Court Scholar Internship program expands horizons for both the student and justice."
Throughout the fall and spring academic semesters, Ryon has kept regular office hours at the Supreme Court and reports to the director of judicial internships on a regular basis.
The Supreme Court Scholar Internship program was launched in the 2006-07 school year. It came about through a suggestion from Iowa Supreme Court Justice Mark Cady, LW'78, according to Dean David Walker.
Last year, Justice Cady paired with then-3L Jesse Phelps, LW'07, to research and write an article on judicial selection and retention that will be published next month in the Cornell Journal of Law and Public Policy. The article is titled "Preserving the Delicate Balance between Judicial Accountability and Independence: Merit Selection in the Post-White World."
Appel was appointed to the Supreme Court in 2006. Prior to his court appointment, Appel practiced law in Des Moines for 19 years. He was the first assistant and deputy attorney general for the state of Iowa.
 He received his bachelor's and master's degree from Stanford University in California in 1973 and his J.D. degree from the University of California, Berkeley, in 1977.