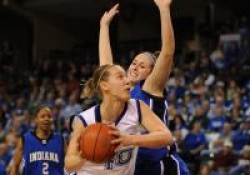 Jill Martin scored a game-high 20 points.
ST. CHARLES, MO. — Senior forward Jill Martin (Norwalk, Iowa) scored a game-high 20 points and pulled down 13 rebounds as Drake erased a five-point halftime deficit to post a 46-41 semifinal round victory past Evansville.
The Bulldogs advance to the championship of the State Farm Missouri Valley Conference Women's Basketball Tournament for the third time in the last five years. Drake (22-9) will face IllinoisState (25-6) in the championship game at 2:05 p.m. CDT Sunday with Fox Sports Midwest televising the game. The winner will earn an automatic berth in the upcoming NCAA Women's Basketball Tournament.
The public is invited to watch the game on the big screen and video boards at the Drake Knapp Center in advance of the Selection Sunday celebration for the men's basketball team. The men's team will receive an automatic berth in the NCAA Tournament after winning the State Farm MVC Tournament. The doors will open at 1 p.m. Free parking will be available, concession stands will be open and Bulldog apparel will be for sale.
"I couldn't be more proud of the players," fifth-year Drake coach Amy Stephens said after Saturday's game. "What they did in the second half was phenomenal and that is why we are in the championship."
The Bulldogs, who avenged two regular season setbacks to Evansville, limited the Purple Aces to just 28.3 percent shooting from the floor, including 22.6 percent shooting in the second half.