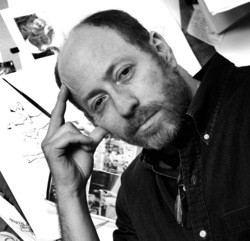 Steve Brodner
CONTACT: Tory Olson, 515-271-1834, tory.olson@drake.edu
Steve Brodner, political cartoonist and artist, will present
Drake University's annual Hawley Foundation Lecture on Tuesday, March 25. The
lecture, titled "The Satiric Eye: How Pictures that Make People Crazy are
Really Good for Them," will start at 7 p.m. in Bulldog Theater in Olmsted
Center, 2875 University Ave. The event is free and open to the public.
Brodner designed and painted the movie poster for Warren
Beatty's "Bulworth" and his cartoons are featured regularly in The
Nation.
His work also has been published in The New York Times Book
Review, Harper's magazine and Sports Illustrated.
Brodner was the unofficial house artist for Esquire
magazine, where he designed portrait caricatures, art journalism and a
back-page political cartoon, "Adversaria." He also has covered seven
national political conventions for Esquire, The Progressive, the Village Voice
as well as other publications.
He is the author of numerous books including "Fold 'N
Tuck," an outgrowth of his page in Esquire, "Davy Rocket, Sharing the
Pie," an animated film and book, and "Freedom Fries," a political
retrospective.
Brodner is a recipient of the 2000 Aronson Award for Social
Justice Journalism. He also was honored by the Society of Illustrators,
American Illustration and Communication Arts.
Brodner's lecture is supported by the Hawley Foundation, which
was established in 1927 by Des Moines businessman Henry B. Hawley and his wife,
Carrie. For more information, call 515-271-2999.