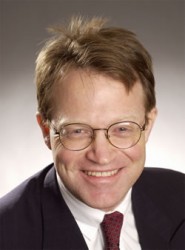 Erik Peterson
CONTACT: Lisa Lacher,
515-271-3119, lisa.lacher@drake.edu
Erik Peterson, senior
vice president of the Center for Strategic and International Studies in
Washington, D.C., will present this spring's Martin Bucksbaum Distinguished
Lecture at Drake University on Wednesday, April 9. The free, public lecture, titled "Seven
Revolutions," will begin at 7:30 p.m. in the Drake Knapp Center, 2525
Forest Ave.

Peterson holds the William A. Schreyer chair in global
analysis at the center. He is also director of the center's Global Strategy
Institute, which aims to assess long-range policy challenges and opportunities.
In addition, he leads the Seven Revolutions Initiative, a
broad-based effort to identify and analyze the key policy issues that
policymakers, business figures and other leaders will face out to the year
2025.
From 1993 to 2003, Peterson served as director of studies at
the center. In that capacity, he
was responsible for planning and development of a wide range of research
projects. Prior to joining the center, Peterson was director of research for
Kissinger Associates in New York City.
On Tuesday, April 1, Peterson will participate in an hour-long live interview on Iowa Public Radio's "The Exchange" program. The interview, which will begin at 10 a.m., can be heard in central Iowa on WOI AM 640 and through Iowa Public Radio's Web site. Listeners will have the opportunity to call in with questions for Peterson.

Peterson holds numerous academic degrees:
M.B.A.
in international finance, Wharton School at the University of
Pennsylvania,
M.A.
in international law and economics, the School of Advanced International
Studies at the Johns Hopkins University
B.A.
from Colby College
The
Certificate of Eastern European Studies from the University of Fribourg in
Switzerland
The
Certificate in International Legal Studies from The Hague Academy of
International Law in the Netherlands.
The Martin Bucksbaum Distinguished Lecture Series is made possible by a gift from Melva and the late Martin Bucksbaum, former
chairman and president of General Growth Corp. and longtime member of Drake's
governing board.
For more information about the event, call 515-271-3994 or
e-mail susan.breakenridge@drake.edu. Additional information about the Center
for Strategic and International Studies is available online.