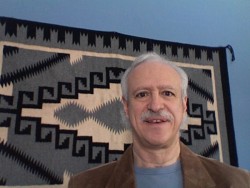 Alan Nadel
CONTACT: Jennifer Perrine, 515-271-4161, jennifer.perrine@drake.edu;
Tory Olson, 515-271-1834, tory.olson@drake.edu
Alan Nadel, the endowed chair of American literature and
film at the University of Kentucky, will share his analysis of Mel Gibson's
films on Thursday, March 27, as part of the Drake University Writers and
Critics Series.
Nadel's presentation is titled "Revenge as a
Faith-Based Narrative: Or, What's that Snake Doing Under Mel Gibson's
Kilt?" The event, which is free and open to the public, will start at 7:30
p.m. in the Cowles Library Reading Room, 2725 University Ave.
Nadel will explore the hyper masculine discourses, built on
homophobia, of the Mel Gibson film oeuvre, said Dina Smith, Drake assistant
professor of English. "He reads these 'vengeance' narratives as
quintessentially American, informing and informed by the contemporary rhetoric
of the war on terror," Smith added. "It's a tour-de-force reading and
very funny, as he has, in fact, seen every Mel Gibson film."
Nadel writes on American fiction, drama and film. He is the
author of numerous books, including:
"Television
in Black-and-White America: Race and National Identity"
"Flatlining
on the Field of Dreams: Cultural Narratives in the Films of President
Reagan's America"
"Containment
Culture: American Narrative, Postmodernism and the Atomic Age"
"Invisible
Criticism: Ralph Ellison and the American Canon"
Additional Writers and Critics events:
April
8: Drake Faculty Reading by Fred Arroyo and Erica Anzalone, 7:30 p.m.,
Cowles Library Reading Room.
April
30: Des Moines National Poetry Festival 2008 Poet Li-Young Lee, 8 p.m.,
Sheslow Auditorium in Old Main.
The Writers and Critics Series is sponsored by Drake's
English Department and Center for the Humanities. For more information, contact
Jennifer Perrine at 515-271-4161 or jennifer.perrine@drake.edu.