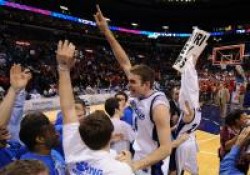 Brent Heemskerk celebrates with fans as Drake wins the MVC Tournament.
The public is invited to join in a Selection Sunday celebration as the Drake men's basketball team discovers what regional it will be playing in when the NCAA Tournament brackets are unveiled at 5 p.m. March 16 on CBS TV.



The celebration will take place in the Drake Knapp Center, 2525 Forest Ave. Members of the Drake men's basketball team will be conducting an autograph session from 4:15 to 4:45 p.m.
The autograph session will be open for posters the Drake athletic department will be providing. Each person will receive one poster. No photos will be allowed with the players, just autographs.



There is free parking for the celebration and concession stands will be open throughout the event. Drake Bulldog merchandise and apparel also will be on sale.



The doors to the Drake Knapp Center will open at 1 p.m. for fans to watch the championship of the Missouri Valley Conference Women's Basketball Tournament on the big screen and video boards at 2 p.m.



Mediacom to televise Drake basketball special on Sunday
The Mediacom Connections Channel will televise a live 30-minute special from the Drake Knapp Center on the Drake men's basketball team being selected into the NCAA Tournament at 6 p.m. Sunday immediately following the CBS Selection Show.
Larry Morgan and Al Lorenzen will interview Drake players and coaches on Selection Sunday about the Bulldogs' upcoming opponent in the first round of the NCAA Tournament. Drake alumni and fans also will be interviewed as the show chronicles the Bulldogs' road to the NCAA Tournament.
A 30-minute Missouri Valley Conference Tournament review will follow at 6:30 p.m.