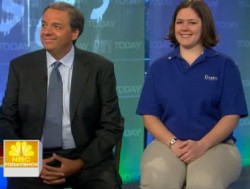 Seppy Basili of Kaplan and Lynn Grochowski on the 'Today' show.
Drake University senior Lynn Grochowski appeared on NBC's "Today" show this morning in New York City as part of a story on finding scholarship money for college.
The story noted that federal funding for higher education has been increasingly shifting from grants to loans. And now that there's a nationwide credit crunch, it may get tougher to secure a student loan. That makes searching for private scholarships all the more important.
NBC Chief White House Correspondent David Gregory interviewed both Grochowski and financial aid expert Seppy Basili of Kaplan. View the story on the "Today" show Web site.
Gregory noted that Grochowski, a National Alumni Scholar, got a full ride scholarship from Drake covering tuition, room and board. Plus, she received seven additional scholarships totaling $21,500 that helped cover other costs such as textbooks, a computer and a study-abroad program.
Tips for securing scholarships
Then Gregory asked Grochowski how she went about searching for scholarships.
"I started my junior year of high school — investigating colleges that had a good television production unit, which is my major, and also had good scholarships," said Grochowski, a native of suburban Milwaukee.
"I figured I could get a big scholarship from a school, which would cover everything," she added. "And, if that didn't work out, I'd get a whole bunch of little scholarships to cover it. Luckily both plans ended up working out for me."
Grochowski, who will graduate in May with no debt, explained that the daunting process of applying for more than 40 scholarships required a high level of organization and perseverance. "You have to make it a part-time job," she said.
Expert advises students to cast a wide net
"Lynn did everything right," said Kaplan's Basili. "She started early, which was important. She went ahead and she connected [the scholarships with] her interests. The fact that she was interested in media helped her get some of the scholarships.
"She wrote for those scholarships. Finally, she cast a pretty wide net, looking at 40 different programs and yielding almost 20 percent, which is impressive."
Grochowski said she hopes her brief appearance on national television will inspire high school students to apply for lots of scholarships.
"Granted, it's a lot of work and it's a gamble," she said. "But good things can happen if you put time and the energy into the application process."
Behind the scenes on the 'Today' show
Being a guest on the "Today" show and getting to see behind the scenes was an eye-opening experience for the television and radio production major.
"It went really well. I'm happy with it," she said afterwards. "It was interesting to see what goes on when the cameras are not rolling . . . . The sets seem so big on TV, but they're really pretty tiny. The have two different production rooms, which I wasn't expecting. It was very interesting to see how everything worked there. Overall, it was a very cool experience."
Grochowski, 22, found herself pampered as a "Today" guest. A chauffer-driven car picked her up at the airport and took her to her hotel. The "Today" show paid for her hotel for one night as well as her plane tickets. A car also was provided to take her to the studio and to return her to the airport for her trip back to Des Moines.
"They treat the guests on the show really well," Grochowski said. "It was way beyond my expectations."