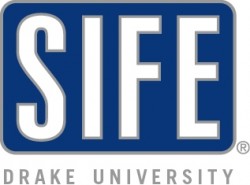 A panel discussion on business ethics will be sponsored by the Drake
University Students In Free Enterprise (SIFE) at 7 p.m., Wednesday,
March 12, in Parents Hall at Olmsted Center, 2875 University Ave.
The panel, which is free and open to the public, will feature four professionals from the Des Moines community:

Iowa Rep. Scott Raecker, R-Urbandale, executive director of the Institute for Character Development at Drake University
Phil Hall, senior vice president of human resources for the Home and Consumer Finance Group at Wells Fargo
Dan Houston, executive vice president of retirement and investment services at Principal Financial Group
Bob Jennings, a business consultant who conducts seminars nationwide on taxes, accounting and technology
For more information about the discussion, contact Drake SIFE President Cliffton Murove at ctm001@drake.edu. Learn more about SIFE at its Web site.