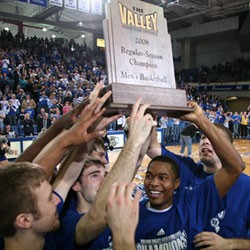 The Bulldogs hoist high the Missouri Valley Conference Championship trophy.
For the first time in its history, Drake has earned
the top seed for the State Farm MVC Men's Basketball Tournament.
The
Bulldogs, picked ninth in the league's pre-season poll, finished with a
regular-season record of 25-4 and 15-3 in league play, outdistancing
second-place Illinois State (22-8, 13-5) in the Missouri Valley
Conference race by two games.
Drake will play the winner
of Thursday's Indiana State-Wichita Sate game in the quarterfinal round
Friday at 12 p.m. at the Scottrade Center in downtown St. Louis.
No. 4 seeded Creighton and No. 5 seeded Bradey also are in Drake's bracket.
2008 State Farm Insurance Missouri Valley Conference Tournament


Thursday, March 6 — Session I [No Television]
Game 1 — #8 Indiana State (14-15, 8-10) vs. #9 Wichita State (11-19, 4-14), 6 p.m. [Sirius Satellite Radio Channel 143]
Game 2 — #7 Missouri State (16-15, 8-10) vs. #10 Evansville (9-20, 3-15), 8:30 p.m. [Sirius Satellite Radio Channel 143]
Friday, March 7 — Session II

Game 3 — #1 Drake (25-4, 15-3) vs. Winner Game 1, noon [MVC TV Network, Sirius 143]
Game 4 — #4 Creighton (20-9, 10-8) vs. #5 Bradley (17-14, 9-9), 2:30 p.m. [MVC TV Network, Sirius 143]
Friday, March 7 — Session III

Game 5 — #2 Illinois State (22-8, 13-5) vs. Winner of Game 2, 6 p.m. [MVC TV Network, Sirius 143]
Game 6 — #3 Southern Illinois (17-13, 11-7) vs. #6 UNI (17-13, 9-9), 8:30 p.m. [MVC TV Network, Sirius 143]
Saturday, March 8 — Session IV

Game 7 — Winner Game 3 vs. Winner Game 4, 1:30 p.m. [MVC TV Network, Sirius 143]
Game 8 — Winner Game 5 vs. Winner Game 6, 4 p.m. [MVC TV Network, Sirius 143]


Sunday, March 9 — Session V

Championship — Winner Game 7 vs. Winner Game 8, 1 p.m. [CBS Sports, Sirius 143]
Seniors close out regular season with 73-63 victory over Wichita State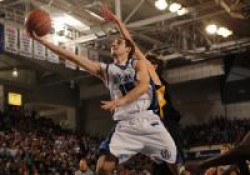 Senior guard Adam Emmenecker
Adam Emmenecker scored 14 points, all in the second half, and set a Drake single-season assist mark Saturday as the 20th-ranked Bulldogs held off Wichita State, 73-63, in the Missouri Valley Conference regular-season finale for both teams.
An eighth consecutive sellout crowd of 7,152 saw Drake improve its record at the Knapp Center to 14-1, the most home wins in a season. View the post-game celebration in Drake's online photo gallery.
Twelve of Emmenecker's points came on four baskets plus free throws during a 13-minute stretch. The senior guard also played a brilliant floor game, distributing eight assists while collecting two steals for the Bulldogs (25-4, including a 15-3 league mark). Emmenecker's assists vaulted him to a career 177, three better than the previous record set last season by Al Stewart.
Senior Klayton Korver, appearing in his school record 118th game, led a balanced Drake attack with 19 points, including five three-point baskets. Senior guard Leonard Houston, also appearing in his final home game, added 14 points, five rebounds and three steals. Sophomore guard Josh Young added 10 points for Drake, which will be the No. 1 seed in the State Farm MVC Tournament next weekend in St. Louis, Mo.
Korver drilled four three-point baskets in the opening 10 minutes of the first half, staking the Bulldogs to a 27-18 lead. Korver hit two three-point baskets during a 12-3 Drake scoring spree that erased a 16-15 deficit.
The Bulldogs used conventional three-point plays by Emmenecker and Jonathan Cox during a 7-0 run that expanded the lead to 45-31.
Wichita State (11-19, 4-14 in the league) cut the deficit to five points twice, the last time on a jumper by freshman Aaron Ellis with 4:01 left to pull the Shockers within 63-58.
But Drake used a 10-3 run, aided by five points from Korver, to widen its advantage to 73-61 with 51 seconds left.
Senior forward P.J. Cousinard, enjoying his second straight 20-plus game, led the Shockers with 20 points, including 11 in the first half. Junior forward Ramon Clemente registered his fourth career double-double with 11 points and a career-high 17 rebounds for Wichita State, which outrebounded Drake, 44-31. Jonathan Cox led Drake with seven rebounds.