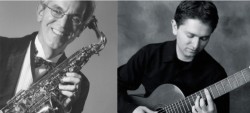 Joseph Murphey and Matthew Slotkin of Duo Montagnard
CONTACT: Tory Olson, 515-271-1834, tory.olson@drake.edu
Duo Montagnard, a saxophone and
guitar duo from Mansfield, Penn., will perform at Drake University on
Wednesday, March 12. The event, which is free and open to the public, will
start at 8 p.m. on the Jordan Stage in Sheslow Auditorium, 2507 University Ave.
The duo, which consists of Joseph
Murphy and Matthew Slotkin of Mansfield University, will visit Drake as part of
their Midwestern U.S. tour. Together, they have performed more than 80 concerts
in 20 states and three countries. Read more about Duo Montagnard online.
Murphy has been the saxophone
professor at Mansfield University of Pennsylvania since 1987, where he has also
served as department chair and director of bands. He received a bachelor's in
music degree from Bowling Green State University and a master's of music and
doctoral of musical arts degrees from Northwestern University.
In 1985, Murphy received a
Fulbright Award for a year of study in Bordeaux, France, where he received a
Premier Prix. In his career, he has been involved in commissioning and
premiering more than 20 new works for saxophone.
Slotkin is one of the most
prominent young guitarists in the United States, having received acclaim as a
performer, teacher and scholar. He is the director of guitar studies at
Mansfield University. He also teaches at Bloomsburg University in Bloomsburg,
Pa., and at Buffalo State College in Buffalo, N.Y.
Slotkin holds Doctor of Musical
Arts, Master of Music and Bachelor of Music degrees from the Eastman School of
Music. His first compact disc, "Twentieth Century Music for Guitar,"
was released by Centaur Records in 2003. American Record Guide praised Slotkin
for his "musical sensitivity and technical control," and for giving
"strong readings of this appealing music."