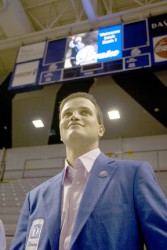 Zach Johnson
Drake will honor six outstanding alumni at the Annual Alumni
Awards Dinner Friday, May 16, in Parents Hall in Olmsted Center. A reception
will begin at 6 p.m. with dinner and the award program to follow at 7 p.m.
The alumni award winners are:
Zach
Johnson, BN'98, Young Alumni Achievement Award

Julie R. Koch, AS'99, Young Alumni Loyalty Award

Linda Robbins Coleman, FA'76, Alumni Achievement
Award
Linda Anderson Worcester, ED'74, and Richard F. Worcester, LA'71, GR'74, Alumni
Loyalty Award

Lawrence K. Fish, JO'66, Distinguished
Service Award
All Drake alumni and friends are invited to the Alumni
Awards Dinner, emceed by the entertaining Steve Berry, LA'83, LW'86, and
featuring the ever-popular Scandinavian smorgasbord, the fun and festive feast
that's become a Drake tradition. Cost is $25 per person. To RSVP, call the
Office of Alumni and Parent Programs, 515-271-3147.

Zach Johnson won the 2007 Masters Championship and has been featured in the top 40 of the Official World Golf Rankings. He began
his professional golf career in 1998, competing in tours including
Prairie Golf Tour, NGA Hooters Tour, Nationwide Tour, PGA Tour and the
Ryder Cup. In September 2006, the PGA of America announced a $100,000
donation to Drake University on his behalf.

While at Drake, Johnson, a resident of Lake Mary, Fla., played
on the golf team, which won the 1997 and 1998 Missouri Valley Conference
championships.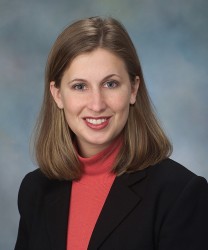 Julie R. Koch
Julie R. Koch, business strategist at the Mayo Clinic in Rochester, Minn., was a National Alumni Scholar. She has served the past three years as chair of the National Alumni Scholarship program, which brings more than 300 outstanding admitted students to campus to compete for full-ride and full–tuition scholarships.



Prior to serving as chair of the NAS program, Koch was a member of the selection committee. She also serves on the Donald V. Adams Leadership Institute Steering Committee.
While at Drake, Koch was involved with the Future Alumni Network and was president of Alpha Phi sorority. She also served as an orientation counselor, a student ambassador and participated in the Honors Program.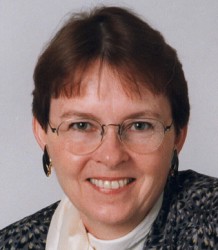 Linda Robins Coleman
Coleman, composer and music consultant in Des Moines, Iowa, has written works for theater, chamber choirs, jazz ensembles and orchestras for the past 30 years.



As resident composer for Drake's Theatre Arts Department, she co-founded the Iowa Composers Forum, an organization dedicated to the performance and promotion of living Iowa composers. Her composition, "In Good King Charles's Golden Days," performed by the Milwaukee Symphony in 1997, was the first work by an Iowa woman performed in concert by a major symphony orchestra.



She was also composer-in-residence with the Cedar Rapids, Iowa, Symphony Orchestra and the Wartburg Community Symphony and received awards and grants from several organizations.
Coleman's involvement with Drake began in 1959 when she took piano lessons and continued when she became a student, employee and wife of William S.E. Coleman, then professor of theatre arts.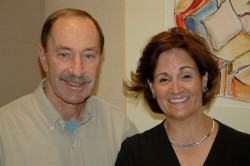 Richard Worcester and Linda Anderson Worcester
Linda Anderson Worcester graduated with a bachelor's degree in education in 1974, and Richard "Dick" Worcester, graduated with a bachelor's degree in liberal arts in 1971 and a master's degree in 1974. Linda, a former teacher, and Richard, president of SW Anderson Co., are residents of Wheaton, Ill. They have been longtime benefactors and supporters of Drake University.

Dick served for many years on the Chicago Advisory Board as well as the planning committee for Drake's annual Windy City Golf Outing. The Worcesters also have been active in student recruitment activities and have hosted receptions in their home for admitted students.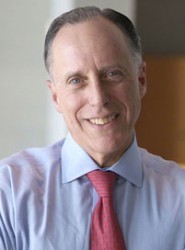 Larry Fish
Fish is chairman of the America unit for the Royal Bank of Scotland (RBS) and resides in Chesnut Hill, Mass. The RBS America unit owns Citizens Bank, which has grown to 27,000 employees in more than 30 states since Fish joined the company in 1992. It is now the eighth largest commercial bank holding company in the United States.



A longtime Drake supporter, Fish served on the University's Board of Trustees from 1977 to 1996. He created the Fish Family Scholarship to provide an annual four-year, full-tuition, room and board scholarship to Drake – plus an annual $2,000 stipend – for the child of a Citizens employee. He also established the Lottie and Robert Brown Scholarship Fund at Drake, in honor of his grandparents, in 1989.
After receiving his bachelor's degree in journalism from Drake in 1966, he earned a master's degree from the Harvard Graduate School of Business Administration. As a recipient of Harvard's Frank Knox Fellowship, he did graduate study at the London School of Economics and traveled in India.
He has received honorary degrees from Drake University, Providence College, Bryant College, Roger Williams University, Johnson & Wales University, and the University of Massachusetts.